November 10 2018
Holiday Preparation Ideas for your Home
Thanksgiving is less than a week away and there are few holidays that call for a stunning table setting like Christmas and Thanksgiving do! With the turning of the weather bringing people indoors, this is the perfect time to create beauty within your home. If you want to get more design ideas, take advantage of our Complimentary Design consult from our Expert interior designers.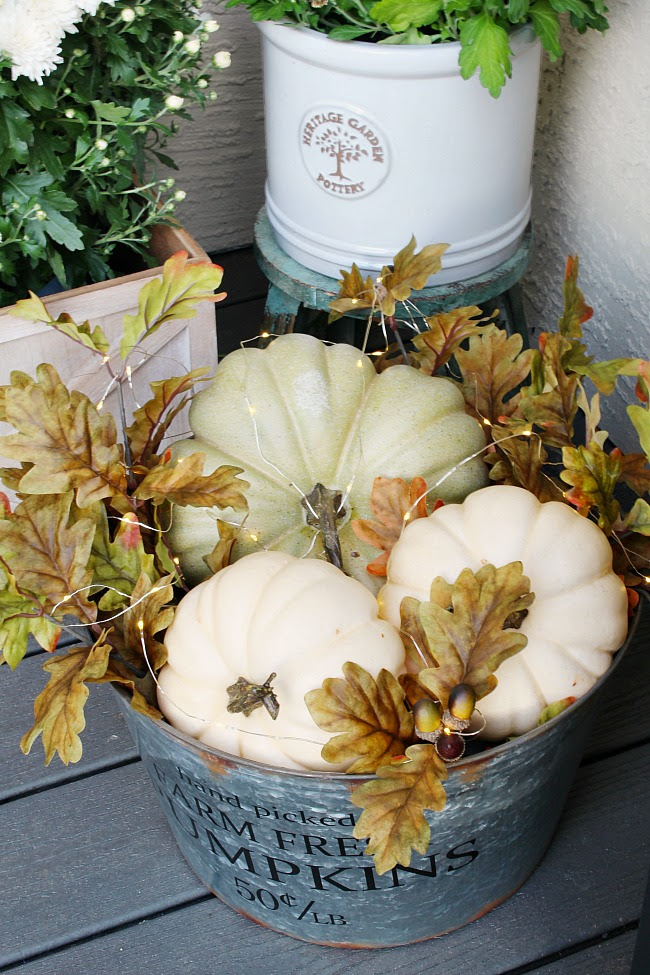 At Showhome Furniture, we are constantly looking for ways to be inspired by the gorgeous world in which we live in. We love the changing of the leaves and frost tipped branches that come as the weather starts to shift its temperature.
This year, we are loving the white pumpkin themes! Turkey's are very Thanksgiving-ish  but it is also such a holiday specific decorating item that will go 'out' faster than pumpkins.
When you decorate with pumpkins you can have them up all fall and even into winter if you want to. In the coming weeks, we are going to be posting some great DIY table decor, and pumpkin decorating that anyone can do.
Today though, we are going to discuss the perfect way to bring autumn into your home just in time for Thanksgiving.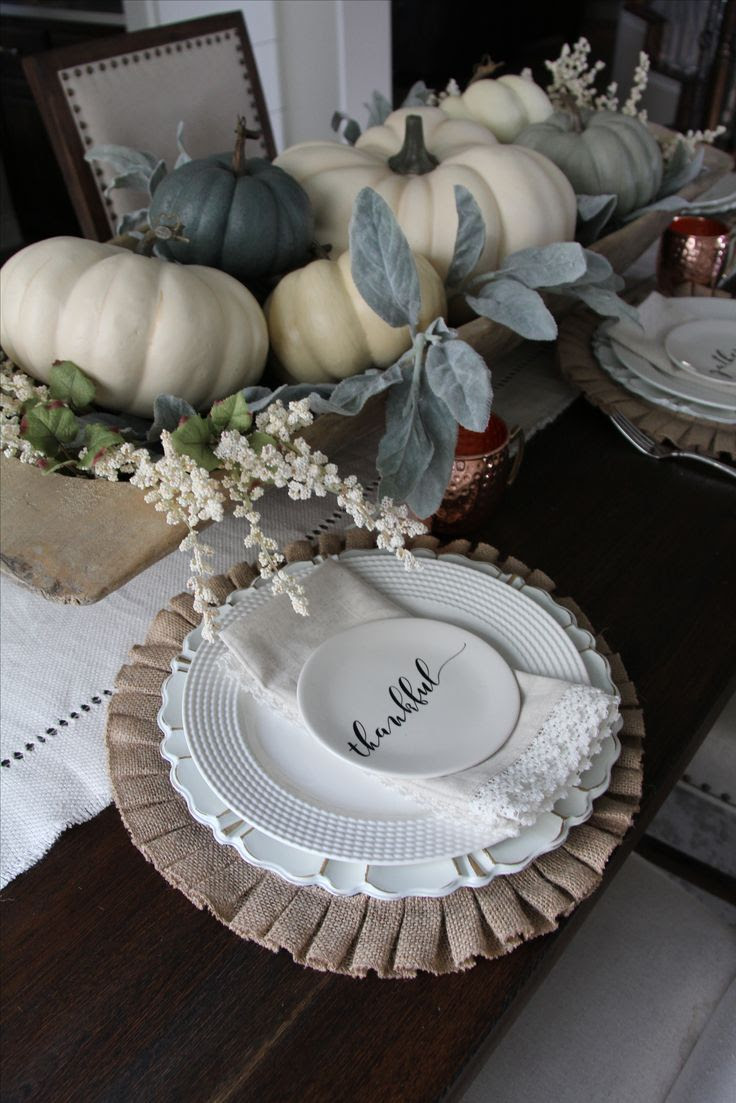 First, clear everything off your dining table. Next, pull out what supplies you have. Pop into Showhome Furniture for some great inspiration and accessories to help your table decorating go better. As I said, white pumpkins are my current love so I made sure I picked up a bunch to use. You can buy them at the grocery store or your local craft store.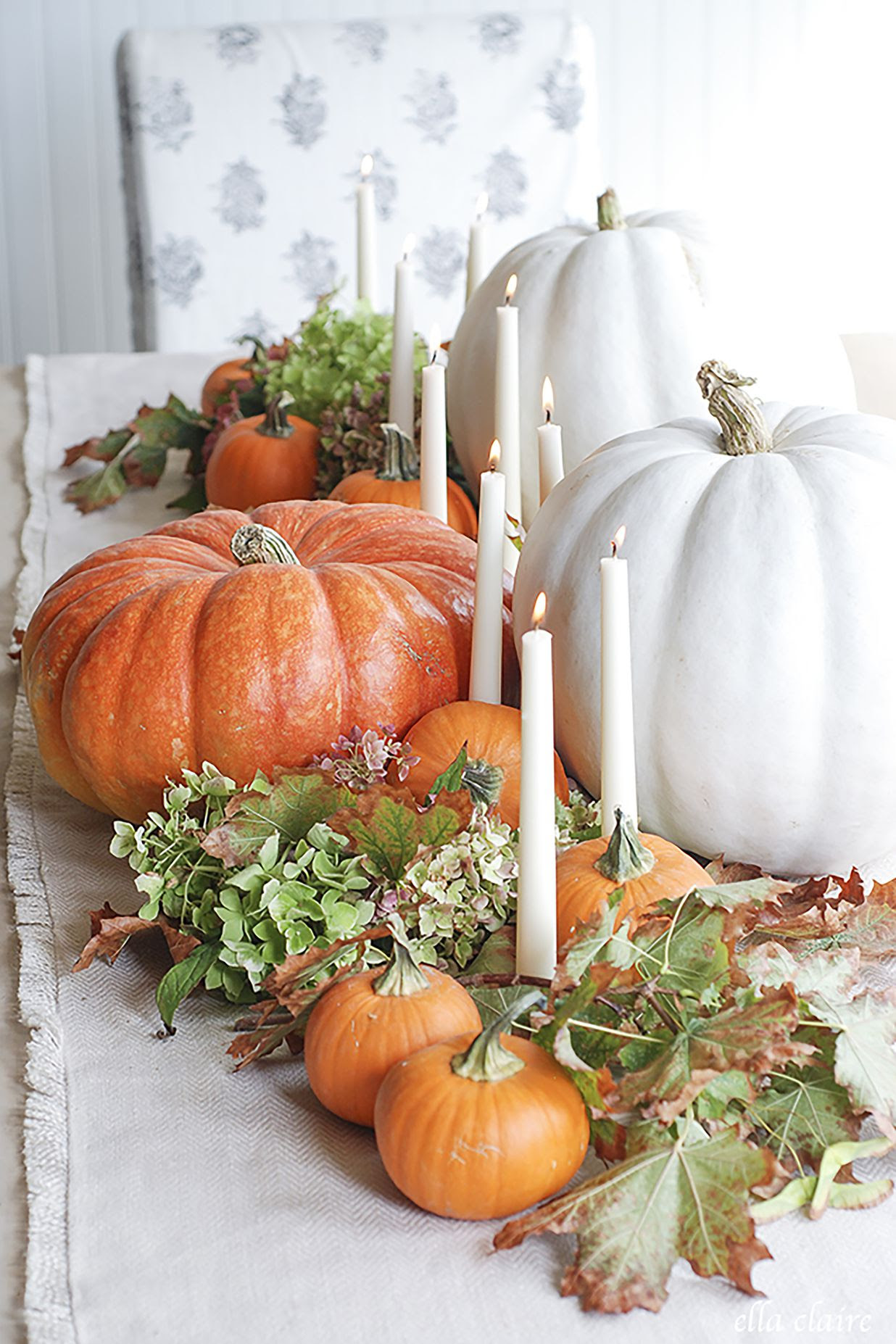 When making a table centerpiece I like to go long and will often use a runner.  The runner can go all along the table and over each end of the table, or it can be smaller and just run longwise in the middle of the table. A runner is not needed, but it helps frame the accessories that you place on the table.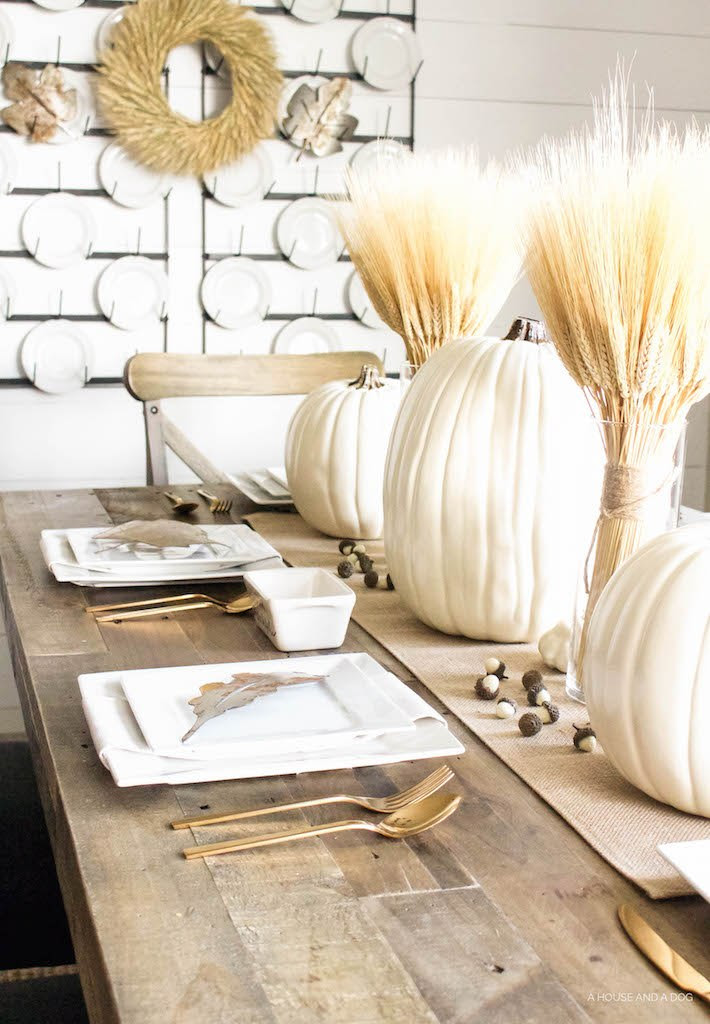 After you have chosen to go with a runner or not, I always like to place the big things on the table first. Kinda like in life, if you do the most important things first, the rest of the day can be filled in with pretty, less important things that makes your whole day go better. In this tablescape, the bowl of pumpkins is the largest, most central item and then the candles, which are important but not as big would go on second.
After you have placed the most important 'statement' items on the table, now is the fun part, you get to add the embellishments! These embellishments are the thing that really adds wow to your table setting!  In this setting, the greenery is a great way of filling in the blank spaces between the pumpkins
Now set the table with your dishes! I always like using white dishes because they are so versatile and can really dress up your table nicely. Sometimes I will use a charge (or placemat) and often I just leave this step out.
An easy, elegant and simple place setting card is a small pumpkin with either your guest name written right on the pumpkin or on a small card and tied to the stem!