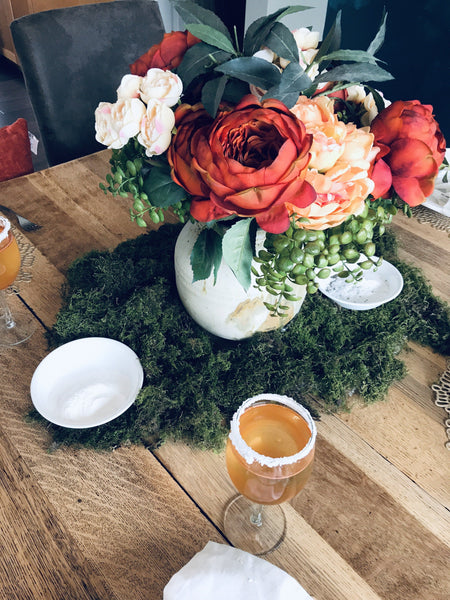 April 08 2019
5 TIPS FOR BRINGING SPRING INTO YOUR HOME
Hello ladies and gents.
Are you longing for SPRING? We are so excited for SPRING! We are moving into NORTHHILL MALL and will be open MAY 1st and our store will be full of Spring and SUMMER so get ready to come on out!
Now let's talk SPRING! 
SPRING brings everything to life and symbolizes new beginnings. In the end it gives us hope. However, spring needs some time to fill everything with colors and jolliness. 
TOP FIVE TIPS:
TIP NUMBER ONE: SPRING CLEANING
Grab your garage bags and boxes and let's get cleaning! I love doing this. There's something amazing that happens when I clean up the house and get rid of useless things. I know the kids may not like this but I try to include them in the cleaning. I find my kids actually clean way better when I'm cleaning right beside them. There's such a great feeling getting rid of old things and also finding some new treasures. Plus, your mood will certainly become better. A little rearrangement may help win some more additional space and create a feeling of a "refreshed interior".
TIP NUMBER TWO: LIGHTEN UP YOUR ROOM 
Do you have winter curtains and bedding? Once Spring hits try to lighten up your home. Curtains are very inexpensive you can usually get a pair for $40. You can pick some transparent and light ones to fill your room with more light. Curtains with floral ornament will be a jackpot. Your furniture is a key to success as well: the lighter furniture the better. Little trick: if you put more mirrors, it will "increase" the amount of light and space. I like to keep the furniture neutral and accent with color! We sell made-in-Canada custom sofas so you can pick from over 200 different options
Moberly Custom Sofa Made in Canada now on sale at $1,399!
If you follow our make-overs you will know we love paint! It makes such a difference and is very cost effective. Here's a wall we painted to bring more color into a free design make-over we did.
If you work on a spring décor, colors matter the most here! Win-win choice could be white, beige, pale blue or pink. This is applied to all surfaces (floors, ceiling,walls, and furniture). They all must play together well to create a perfect picture. Don't forget to water it down with some contrasting elements like colorful pillows, paintings and decor.
TIP THREE: MAKE YOUR SPACE ROMANTIC AND CHIC
Spring is known as a period when everything is blossoming and a human's heart is not an exception here! Add some lovey-dovey motives and vintage fleur to your interior. Put up some of your cute glass vases and fill them with fresh flowers. Or take a pretty flower pot and put it somewhere to please your eyes. Flowers always serve as mood raisers.
photo credit: Randi Garrett (@randigarrettdesign)
TIP FIVE: SET THE DINING TABLE FOR SPRING
I love decorating my table for Spring. It's so fun! I love bringing in elements from outside. Real moss, greenery, fresh flowers, and log tiles. 
Guests love a nice set table. Seriously, don't be afraid to have fun setting your table. Be adventurous! See some examples of tables we found online and get creative  😊
Check out our table decor and place setting video here: https://www.youtube.com/watch?v=pYj9sckMnxk
(Remember to subscribe for your chance to be our next Free Home-makeover winner!)
If you are in the need of a new table now is the time to come in. With our MOVING SALE we have so many solid wood tables on clearance.
I hope you have fun decorating for Spring! Do you like decorating your table for Spring like the Showhome Family? Comment below.
Also, remember to watch this video so you can be the next free make-over winner!
.