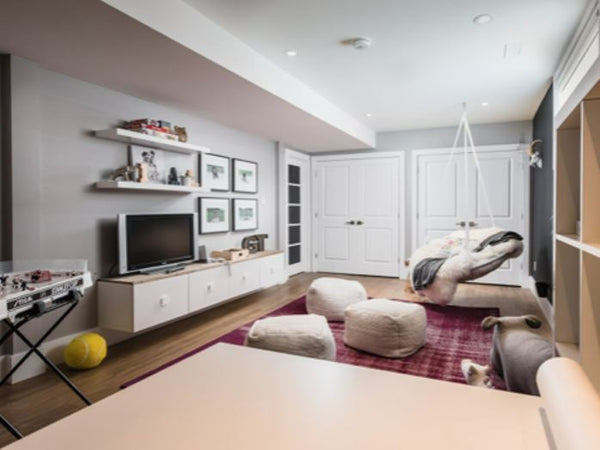 February 23 2017
TIPS FOR DESIGNING AN AMAZING KIDS GAME OR PLAYROOM
TIPS FOR DESIGNING AN AMAZING KIDS GAME ROOM OR PLAYROOM
Photo Credit: http://scottmcgillivray.com
Raising six beautiful girls in our home, our family's gotten a lot of practice planning a kid's game or play room.
Unlike other rooms in the house, decorating for kids can be even more challenging because you need to design a space that suits their personality now but won't be something they will outgrow too quickly. In addition, the room needs to flow with the rest of your house and not stick out like a sore thumb.
We get inspiration from several design "miracle workers" (many of which you may recognize from HGTV). Here are a few of our favorite design inspirations that mix style, practicality and fun!
"THE MAGNOLIA STORY" BY JOANNA GAINES
When customers come into our Calgary furniture stores asking for ideas on how to create a practical game or playroom for their kids we often recommend they check out, "The Magnolia Story" by Joanna Gaines. Aside from sharing her family's amazing story she does an amazing job describing how she carefully plans space(s) in her home for her kids.
Often times, we make the mistake of worrying too much about the design of the room and less about the functionality and true purpose of a playroom. On page 130 of her book she talks about the playroom for her kids and says:
"The whole place needed to be practical and functional for them so they could have fun and be themselves. It's about children feeling that they can be at home".
It's important to remember to keep the design simple, functional, and fun! Check out the Joanna Gaines inspired space for kids below.
DO'S AND DON'TS FROM ELIZABETH MAYHEW
Another great resource is lifestyle expert, Elizabeth Mayhew, who understands the challenges and needs of decorating kids' rooms. I recently came across an article she wrote for thestar.com and how you can spend time at your computer searching for some great ideas online to put your child's room together efficiently and in a budget-friendly way! In her article about "Do's and Don'ts for Decorating Kids' Rooms" she also cautions against following current fads, designing the space to meet your personal needs, and keeping the design simple and uncluttered (for example, she advises narrowing down your fabric or furniture choices to two or three colours).
STORAGE SOLUTIONS BY SCOTT MCGILLIVRAY
One of the most common questions we get asked from our customers when designing their kid's rooms is, "Can you help me with storage ideas". The space is where kids will want to have access to toys, arts and crafts, electronics and books. Without creative storage options to keep all of these things neat and tidy, yet easily accessible, the room could get out of control in no time!
The trick to accomplishing this is to creatively mix open and closed storage options to keep a space open and organized, too. For example, having shelving with closed doors and areas for wicker baskets to keep toys and art supplies easily accessible.
Scott McGillvray, real estate investor, skilled contractor, and award-winning HGTV series host, certainly knows about planning and putting together a kids playroom or game room that you will be proud to show off and that your kids will love to spend hours in every day. Check out the article on "Smart Playroom Storage Tips" at www.scottmcgillivray.com for more ideas.
ACTIVE PLAY FOR KIDS AT HOME
Photo Credit: http://sifu.thezoolegacy.com
Depending on where you live, the winters can be cold and stretch out for several months, keeping families indoors where it is safe and warm. This is the case for us here in Calgary, Alberta. Although it's easy for kids to stretch and move outdoors in the summer time, where playgrounds and recreation areas are accessible, this is not always the case at home. If you have the space, putting a swing, small trampoline or climbing structure in the room is a great way to keep the kids active all year long.
We adore the four small structures in the picture below. They are creative, fun and add flair to any space!
Photo Credit: http://www.apartmenttherapy.com
HOURS OF FUN AND CREATIVITY – A CHALKBOARD WALL
In my opinion, every playroom needs a chalkboard wall. It gives your children a large area to be creative and let their minds explore through chalk (which is easy to clean and safe to use). In addition, chalkboard paint is inexpensive and offers hours of endless possibilities to let kids use their imagination. This helps to truly let your children be a part of designing out there space and keeping the area fresh and new, too! The best thing is, when your kids outgrow the chalkboard wall, you just paint over it!
Check out some of the ideas below from www.scottmcgillivray.com.
Photo Credit: http://scottmcgillivray.com
Photo Credit: https://julieloveshome.wordpress.com
KIDS GAME ROOM AND PLAYROOM – FINAL THOUGHTS
Hopefully this gives you some insight and helps to provide some useful direction as you are planning out your kids game room or playroom. Just remember that the key to designing the space is to keep it simple, let it be a space that will evolve and grow with your kids … and be a place for the whole family to be proud of and enjoy!