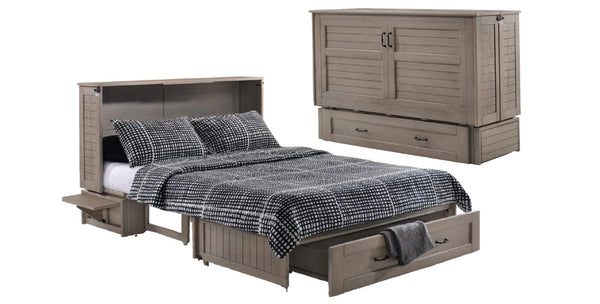 September 25 2021
5 Things Airbnb Guests Love about the Night & Day Cabinet Bed!
Okay, so you've heard me talk about the New company that I'm in love with called Night and Day. We are literally having customers bombard us with questions and testimonials on how much they love this bed! If you're new here, Night & Day is basically it's a company that creates furniture that looks like gorgeous design pieces during the day and turn into comfortable beds at night and we call it the Murphy Bed!
We asked several clients who AIRBNB how the Poppy Murphy Bed which is the bed we sell here in our Calgary location has improved their experiences with guests and this is the feedback that we are getting.
1. Guests love the Bed!
Guests are reporting that it's wonderful to rent spaces that are not too large (expensive), but that still sleep so many people thanks to the portable, easily made up Poppy Beds!
2. The Bed is comfortable!
Most guests are saying that the bed is just as comfortable as the other queen beds in the house. That is a HUGE win for a host who is doing everything they can to please the guests. This trip-old premium Gel Memory Foam Queen Mattress feels AMAZING to sleep on!
3. The Bed is Easy!
Guests absolutely LOVE that the Poppy Bed can be made in less than one minute! They love that it takes almost that long to put it away, and the LOVE that it disappears once it's put back together.
4. The Bed Has Features!
Guests are raving about the fold out trays, the plug in phone chargers the solid hardwood construction, the higher sleep platform and the large rolling storage drawer underneath
5. The Bed is Affordable!
This one is for the Hosts and not the guests. Airbnb Hosts love that for the same price as buying a solid wood dresser you can buy a cabinet that converts into a bed. And on those off seasons when you AREN'T doing Airbnb Your space looks clean and uncluttered. For a host one the most important things when considering hosting guests is the comfort of their sleep. Sleep is essential, and a good sleep is hard to come by.
Night and Day beds come in four gorgeous options including: Brushed Driftwood (whitewashed wood), White Bark (wood), Blizzard (Black/Gray), & Skye (blue), ensuring that it is a perfect compliment to your existing furniture!
Want to see a demo of exactly how you can turn your night and day furniture in a bed in less than 45 seconds? Check this demo out here:
Plus all Night & Day Beds purchased with Showhome Furniture are covered by an incredible 10 year limited warranty on the bed, and 3 year limited warranty on the mattress! YAY!
If you want an ADDITIONAL $50 off your purchase of a night and day bed tell the lady or guy at the cashier that you saw this blog post- it's like Christmas came early in September!
So to sum things up. The Poppy Night and Day Bed is the perfect piece of furniture for every Airbnb & VRBO host around!