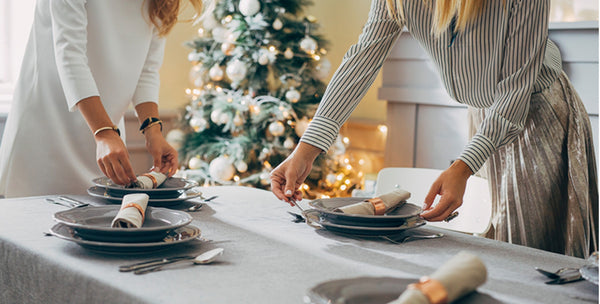 September 28 2021
7 Tips For Hosting Overnight Guests
Although most of us love our friends and family, we all usually feel a bit of anxiety when it comes to hosting them overnight. Now that we can accept our family and friends as the COVID cases are decreasing then we can finally get together to spend some quality time together.
Hoping to think of everything, I dream of being the perfect host but in reality it's harder than it looks! I've decided to put together a list of my favorite tips for hosting friends and family. Including what furniture to have and not to have. As always if you are looking for a perfect piece of furniture to complete your set up, stop by our Calgary Showhome Furniture store and look around!
Clean the House
Having guests over is my #1 motivation to deep clean my house! I use this opportunity to get everything sparkly clean and check off things that have stayed on my to-do list for far too long. I get rid of my extra junk and if I have enough advance warning I try to declutter the entire house. I never regret doing this for a guest. That way, even if the actual guests visit is a bomb, I've got a clean house!
Stock up with food
Clean out the fridge and stock it up with your favorite drinks, snacks and foods for both you and your guest to enjoy. Choosing snacks that are easy to prepare will make your guest feel comfortable if they get hungry and need to find food by themselves.
Plan some Activities
There is nothing worse than having guests over and then having long awkward hours to kill with nothing to do. Planning few activities in advance can make the stay fun and comfortable for both of you guys. It could be a simple shopping spree, a trip to the pool or an amusement park if they have kids or visit Showhome Furniture store at North Hill Center and get free cookies and play area for your kids while you relax and enjoy the 70,000 sq.ft. showroom. Try to arrange a variety of activities that will cater to a range of interests.
Be Flexible
One of the most important characteristics about being a good host is to be FLEXIBLE! If your guest is tired you want to be able to quickly change your agenda to include an afternoon nap. If they are bored, you might have to put away the books and take a walk, or visit one of those activities that you arranged beforehand.
Don't forget the Kids
IF your guests have kids there are few things that you can do to make everyone feel comfortable. First of all, put away things that are precious or breakable, there is NOTHING worse than visiting family with your toddler and having to be constantly saving everything from her curious hands. Have a few names of babysitters ready in case your guests want to join for an adult only date night or activity. Pick up a few children books, games and toys. This won't cost much and you can get them from a thrift store, but it will help make the trip so much nicer for the parents.
Bedrooms
Bedrooms is an important consideration that you don't want to miss. Make sure you have freshly washed clean sheets, plenty of fluffy pillows and a few extra blankets. The guest bed should be comfortable! Showhome furniture have the perfect bed for guests - the Murphy bed. It's totally fine if it's a pullout sofa, so long as it's a comfortable pull out sofa. If you don't have one, and want to get one, we have incredible pullout sofas in our Showhome Furniture Calgary Store that we'd be happy to show you!
Provide something to read
A small collection of current magazines and a couple of interesting books will make your guest feel welcome when there are a few spare moments. You can easily arrange them in your wall using a bookcase or wall shelves.
Put Snacks in the Room
If possible, include a small refrigerator stocked with drinks and snacks directly inside your guest bedroom. If this isn't feasible, still make a basket full of snacks for your guests to enjoy at their leisure.
Bathrooms
Make sure that bathroom has nice clean towels and is fully stocked with shampoo, conditioner and soap. Go the extra mile and have a new toothbrush, some shaving equipment & some nice lotions.
I can't wait to hear how your hosting went! Do you have a favorite hosting tip? If so, comment below!