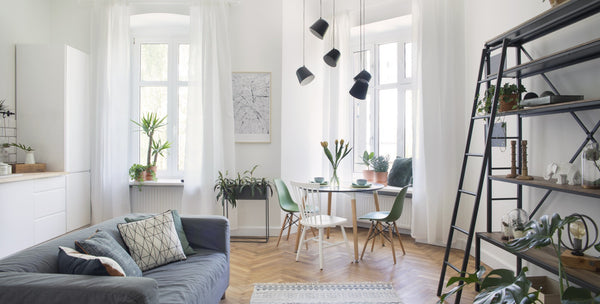 August 30 2021
4 Tips To Updating Your Industrial Style Home
One of the more dramatic and memorable styles of decorating is inspired by the warehouse or urban loft. It is called the Industrial style and is very trendy and popular, especially in cities where spaces are smaller.
The unfinished, rawness of the elements used in decorating the Industrial style appeals to people from all generations. It is a timeless style that is easily updated and switched around to look new while keeping its old timeless feeling. Often you will see exposed brick, ductwork, and unpainted wood. Renovated patio, lofts, attics or basement work great to incorporate the Industrial style.
High ceilings, hanging metal lights, simple furniture are some of the main elements of Industrial decoration. If you are struggling to figure out how to adapt the Industrial style to your home please feel free to call Showhome Furniture and book your FREE one hour design consultation from our top designers. It is our pleasure to help you create a home that is full of unique spaces that you love.
First, look around the room you are decorating. What old authentic elements of your home do you want to showcase? Are there some bricks, or ducting that you can use to bring the industrial feel in your home with more power? If you don't have any Industrial features in your home that is totally okay. The right furniture and accessories can help change any room into the Industrial style.
Second, check out your walls! Industrial style design uses a lot of grey, brown, white and black. Grey is a great color to paint your walls as it reminds you of cement and goes well with most types of furniture and accessories.
Third, pick out your best Industrial furniture. Showhome Furniture carries a great line of Industrial furniture. We love mixing woods and metal together to create the perfect Industrial feel while adding warmth and coziness to a space.
Once your walls are painted and furniture picked, now is a great time to add some bright modern art. The right art on the wall can change a drab wall into a stunning space that intrigues and delights the eye.
Lastly pick the perfect rug. Rugs are often overlooked, but at Showhome Furniture we know that the right rug makes all the difference in tying all different elements in a room together.
Remember, if you get stuck when designing your Industrial style home, give Showhome Furniture a call. We love helping our customers out and offer a free one hour consultation from our design specialist.