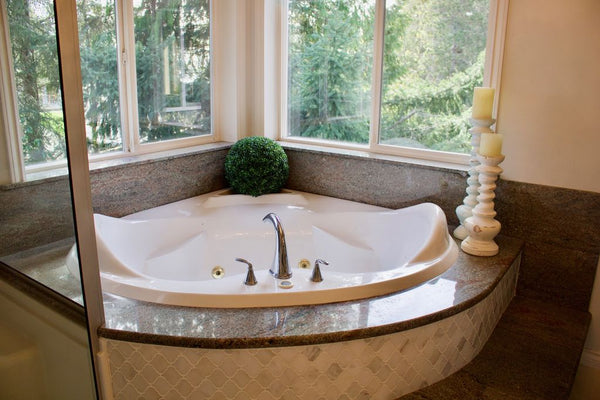 September 06 2021
5 Reasons Everyone Needs a Hot Tub!
Have you ever dreamed about sitting in a hot tub on a cold Southern Alberta day, and then sat there and tried to justify exactly WHY you need a hot tub? Well, I have, and I found out some really neat things about why you and I NEED a hot tub! Showhome Furniture has just begun carrying our favorite hot tub brand Hydropool hot tub and I wanna tell you all about it!
Affordability
There is no doubt that hot tubs are some of the fastest-selling, fastest-growing items in the market of backyard decor and functionality. New energy-efficient hot tubs are specifically designed to operate with minimal power required. Hot tubs cost waaaay less than a swimming pool and the ongoing maintenance for a hotter is relatively simple and affordable. Ultimately, what all of this information means, is that if you want to own a hot tub, you probably can!
Accessibility
I am constantly wanting to drive to the health club or sauna to get the relaxation benefits of a hot tub. But when you have your own, it's right in your backyard! Not to mention the water is YOUR water, nice and crystal clear. You don't have to worry about anything, including a bathing suit if you don't want to! It's like having your own private retreat, right in your backyard.
Health Benefits
This is probably the most important reason to consider including a hot tub in your life. There are literally INCREDIBLE health benefits of sitting in hot water. Hot water submerses your entire body, it increases your circulation, and blood flow relaxes muscles and eases pains.
Joints and muscles are grateful because they need a break from the hard work of carrying your body around! Not to mention the jets. Jets help massage and soothe sore spots on your body.
Use it all the time!
Hot tubs can be enjoyed in every single season. From summer to winter you will be able to go outdoors and just sit under the stars, relaxing and breathing in fresh air.
Sleep
Did you know that sitting in a hot tub for 20 minutes before bed is all it takes to improve your ability to sleep? If you have restless leg syndrome, a hot tub is a PERFECT way to treat it so that you can get to sleep quickly. Warm water elevates your temperature and the rapid cool-down sends a signal to your brain that it's time for sleep. You'll get better, longer sleeps if you've soaked in a full body hot tub right before bed!
There you have it! 5 amazing reasons that you NEED a hot tub. Showhome Furniture is selling a full range of Hydropool hot tubs for our clients. Hydropool tubs are made in Canada with affordable, quality craftsmanship. They are built to last your lifetime, are energy-efficient, beautiful, and reliable!
The Hydropool Hot Tub that is Made in Canada come with a warranty and a guarantee:
Guarantee
One thing we love about Hydropool hot tubs is their 30 Day no-risk guarantee! They let you take home the tub, test it out in the privacy of your own home, and if for any reason your new Hydropool hot tub doesn't live up to your expectations during your trial period they are committed to finding a solution!
Warranty
We are happy to provide the support you need to have the best experience with your Hydropool. This is why, for a small fee, all Hydropool Guarantees are transferable to a new owner. The new owner can have the balance of your equipment and component Guarantee protection with a simple signature. However, do remember that Hydropool hot tubs are portable and can be moved to your new home.
If you can't tell, we are in love with this tub and we are excited to start carrying! If you'd like a Hydropool hot tub come to our Showhome Furniture Store in Calgary and talk to one of our staff members about finding the perfect fit!
We also offer free design consultation if you want to make your home into a showhome for less. Our expert designers are excited to meet with you and talk about the design you want for FREE!