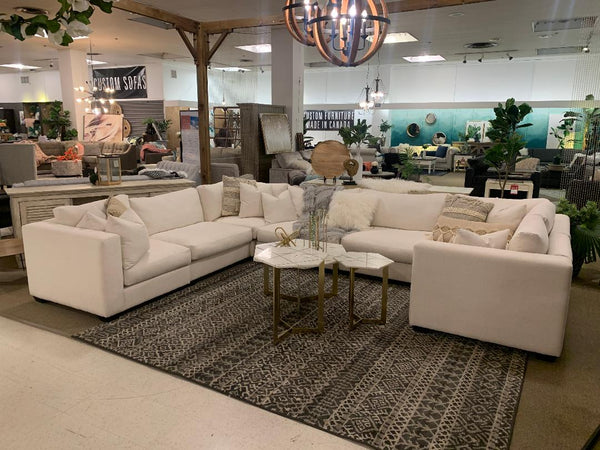 June 23 2020
5 Tips for Creating a Modern Living Room
Hello ladies and gents! Now let's talk about our living space.
Modernizing your living space is as easy as swapping out a few key pieces, but how do you know that you're choosing the right options? How do you avoid having a living room that looks like it's from the 1980's? We've compiled a few tips for you to keep you on the right designing track:
LESS IS MORE
Whatever you do, do not go overboard with decorating your living room space. You should only surround yourself with items and pieces that serve some sort of purpose. Consider taking a few pointers from the Marie Kondo method: does this item spark joy? If not, toss it.
With minimalism still a huge part of modern design, consider focusing on clean lines and simple designs, and only bringing pieces into your space that you truly love.
CUSTOMIZE
Functionality is essential when creating your modern living room. Lean towards pieces that fully suit your needs, and think about looking at custom pieces. An added benefit to customization is that the more you customize your space to suit you, the less it will look like it's straight out of an IKEA catalogue. Uniqueness is always in style.
EMBRACE COLOUR
While we've loved the trend towards all light neutrals, deeper and darker colours are cropping up in modern designs. Moody jewel tones like emerald and sapphire are taking over. There are simple ways to add hints of colour to your space to modernize it, without going completely dark. Focus on accents, like a ruby red throw pillow, or a deep green art piece. Consider adding brassy metal accent tables that'll warm up your neutral space. If you're more daring, paint an accent wall in a rich blue. These colours pair well with neutral spaces, and will add more excitement to your living room.
PLAY AROUND WITH TEXTURES & PRINTS
An easy way of modernizing your space is introducing varying textures and prints. You can start small by replacing throw pillows and blankets, which is an easy way to keep up with modern print patterns. You can also get a funky rug or even a love seat in a more playful print. Consider adding wallpaper to a feature wall, or maybe doing shiplap or an exposed brick wall. When you add visual and textural interest to your space, it becomes more memorable.
SUPPORT LOCAL
Part of creating a modern living space is knowing the current trends and practices of designers. A huge trend in 2020 is supporting local businesses, whether that's in your own city, or just in your country.
For Canadians, think about shopping Canadian before you start shopping internationally. Knowing that the pieces you buy support local and family-owned businesses is an incredible way to create a modern living room.