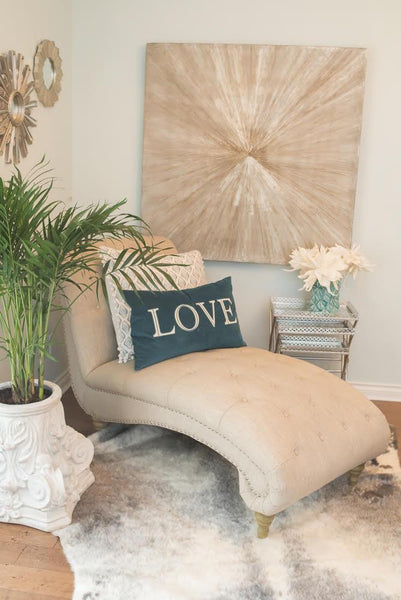 January 06 2019
5 Tips To Make Your Home Stylish Yet Child-friendly
Ladies, having kids is one of the greatest joys of our lives, but why should our decorating have to suffer because of it? There is no need to choose between a stylish home and kids. We can have both, and here's how. I have put together six tips that will help transition your home into a child-friendly living space, while keeping your home chic and attractive at the same time.
TIP #1 CHOOSE FURNITURE THAT IS EASY TO CARE FOR
I know this is a hard one. But, a glass coffee table may not be the right piece for this stage of your life. Or a dreaded white linen sofa. Those little fingerprints will drive you crazy. But, there are so many options out there on the market from leathers to fabrics. 
I say choose furniture that is easily wipeable and durable. Leather couches are totally in style and so easy to keep clean. Showhome Furniture is offering an amazing five-year protection plan that will save your life, and your furniture. It protects from accidents including pet damage. 
When it comes to dining chairs I recommend something that is wipeable as well. Get kitchen chairs that can easily be wiped like a leather, wood or  metal material. 
If you want to go fabric purchase something with a darker patterned fabric that will easily hide any spills or sticky fingers. 
And I always recommend spraying all your furniture with scotch-guard. You can pick up the spray at HOME DEPOT or WALMART. It gives you an extra layer of protection. 
TIP #2 STYLIST CONTAINERS FOR MESS
Baskets, baskets, and more baskets.
Baby clutter is so real, but also very necessary. You need to have diapers, binkies, wipes, and toys on hand at all times, but to keep your sanity, they need a home. 
Cute baskets are your perfect solution. Wicker baskets, with or without lids are great! Also, wipeable metal or fabric baskets can be great too. Just make sure they don't have any sharp edges, or heavy lids that can hurt a foot if dropped.
TIP #3 THE PERFECT COFFEE TABLE
Coffee tables with built-in storage will be your best friend. It will increase your storage space and be an excellent little station for all your kids needs. Avoid coffee tables with glass tops, and sharp edges.
Showhome Furniture sells so many different styles of coffee tables. They come in all shapes these days: round, square, oval or rectangle! Some with baskets and extra drawers and shelves to hide all the clutter kiddies bring. 
Showhome Furniture also sells different lift-top coffee tables that are great for crafters with sleeping little ones. Or those days you announce to the kids it's family movie night and you don't want to get up. 
You simply pull the lift-top coffee table towards you and place your food on it! Come on, you deserve a break once in awhile as well!
TIP #4 FUNKY FUN ACCESSORIES
Showhome Furniture loves unique accessories. Ceramic, metal, and wooden decorations. I would look for accessories that will double as fun-time for your kids. 
Like stylist XOXO blocks, metal stylist balls, funky magnifier glasses, and of course an hour glass.
Things kids can play with on the coffee table but they still add a flair to your living space. 
Stay away from glass! There is nothing worse than having cute things that you're always worried about getting broken. Replace your precious breakables with fabulous durables!
Our store has some great stylish trays for your coffee table that you can fill with gorgeous things that will also be fun for your toddler to play with. Let's be honest, they would far rather play with your geometric shaped metal balls and little wooden trinkets than their actual toys, so just be smart about it. Top it off with some beautiful faux flowers that can handle busy fingers and a little bit of drool. 
TIP #5 POUFS!
Poufs, throws, and cute pillows.
These things are a must! They will give your home the perfect visual texture it needs and are so cozy for your little ones. They will also prove excellent for a quick little blanket fort with your kiddies. 
Include patterned pillows which are great for hiding any snags and stains, and pillows and poufs with zippers that you can take off and throw in the wash to freshen up. 
I hope these tips have been useful. Don't let your cute home standard fall just because those precious little kiddies have entered your life. Have fun with it, and please send me any other tips and ideas that I missed. Remember to comment below for a chance to win a free home accessory for your 'stylist coffee table'. 
Love
SHF FAMILY