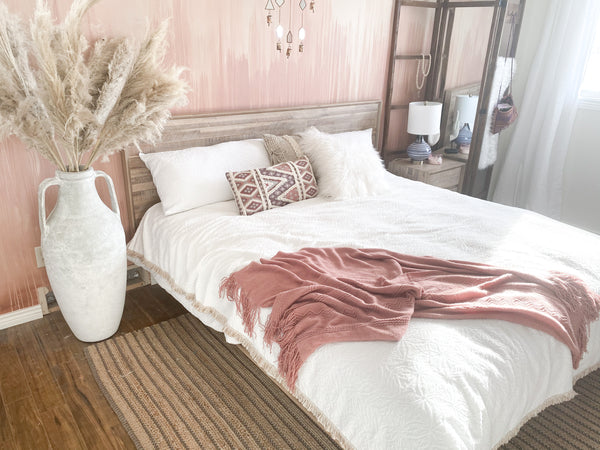 December 07 2020
Pampas grass plus a mountain retreat home are calling your name! Who's coming?
Hey guys it's Shay with Showhome Furniture!
I hope everybody's doing "okay" with the new Alberta restrictions. Please be safe.
On the homefront, the Showhome Furniture family is busy working on the mountain retreat home. We decided since we can't send you guys to Hawaii for a getaway we will renovate a house that we have near Waterton Alberta.
It is a cute mountain home situated on 50 acres of beautiful prairie land with a gorgeous mountain. It is our gift to Showhome Furniture clients.
We will be choosing winners starting in a few weeks to come visit the mountain home and have a nice retreat with your family, where you can enjoy nature, go snowmobiling, and have some beautiful outdoor adventures.
Here is a sneak peek in to one of the rooms.
In this room we used terra-cotta paint on the accent wall. My daughter and I painted it in three different tones of terra-cotta. We started with light paint at the top medium in the middle and dark at the bottom.
One of us would paint and the other one would spray and let it drip down the walls it looks super cool.
It was a big mess so if you try this at home make sure you tape off your baseboards and have some glass with you. It's a good bonding experience! LOL.
In this room we are featuring one of our top selling beds it is called the RUTH bed.
It is solid wood, platform, and comes in warm wood tones with a white wash finish on it. You can check it out here:
Ruth Bed
We also added a cozy and nice chair that is custom made in Canada. This is also one of our top selling products at our store. It comes in three sizes, 42 inch, 48 inch, and 60 inches.
You can choose from over 200 different fabrics and like I said the best part it's made in Canada.
We are so happy to be selling Canadian made furniture.
Especially in these uncertain times,  it makes us so happy to be supporting other local businesses! You can choose from over 200 different fabrics check it out here:
Nest Chair
We also finished off this look with a jute rug from our store and some greenery and accessories. We have over 200 rugs on display in our store and carry several different brands at exceptional prices.
We just wanted to thank you so much for supporting a local family business and can't wait to send families down to the mountain house.
Love,
The Showhome Furniture family mama
You might like to read this too: