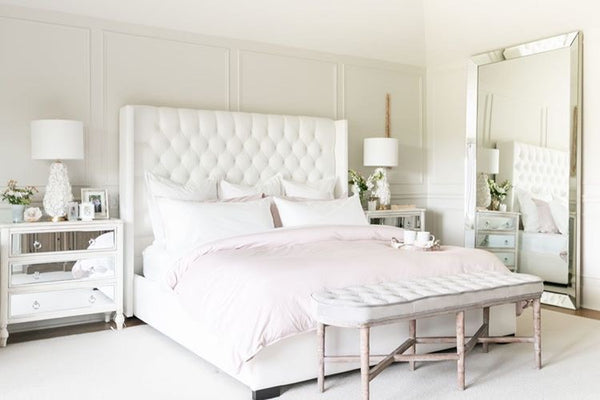 July 30 2018
The Panama Tufted Bed
PANAMA CUSTOM PLATFORM BED and more.
I redesigned my master bedroom, and as an interior design enthusiast, I was absolutely ecstatic with the selection at Showhome Furniture! My favourite purchase was the tufted buttoned upholstered headboard that came with the Panama platform bed! A piece that is totally customizable. It came with 200 fabrics to choose from (which is a lot! And a designers dream). It has a solid wood base, so no box spring is needed (hence "platform"). What also surprised and delighted me was that most (if not all) of their furniture is Canadian made! I always like to shop locally.
But the absolute best part was that I found all the pieces I needed to complete the ENTIRE room, for a VERY affordable price, in just one store! My vision was a textured but clean design with several unique pieces. I never expected to be able to find all of this at one store! Amazing. And the staff was so helpful (and patient).
The other pieces I acquired where the Sundried Blanket Box which really adds texture and timelessness to my design. Then with the Gia 5 drawer dresser, and a whimsical mirror above, the room really began to come together. The room has two large windows on two walls so you cannot have too many pieces cluttering up the space. However, I managed to pick up some accessory pieces to add more color and elevate the design.
With the Malibu nightstands and extra-large mirrored lamps the room transformed into a space that was an absolute treat to be in. It feels much larger and brighter than before. With a nice neutral tone on 3 walls, I decided to go with a wallpaper design that managed to be striking and interesting yet pale and soft enough not to overwhelm. With the mix and match of textures, patterns and color the room is (in my opinion) a masterpiece.