Whether you are looking to purchase new Calgary dining chairs for your dining room or need to replace your existing furniture, it is important to choose a design that will suit your home's overall style. While dining room chairs come in a variety of different shapes and sizes, there are a few design basics that you should be aware of. These guidelines will help you choose a design that is both comfortable and stylish.
Upholstery fabric
Whether you're building a custom dining chair or replacing the seats of a standard dining chair. You have to consider choosing the best furniture store in Calgary- Showhome Furniture. Dining chairs see heavy use and they can easily take a beating. You need a fabric that can stand up to wear, tear, and spills. You should also consider the fabric's UV protection.
You should also consider the texture and style of the fabric you choose. Velvet is a classic choice for dining room chairs. It's durable, soft, and can easily be cleaned with a damp cloth. Velvet is also available in a variety of colors, styles, and textures. It's also relatively inexpensive and easy to clean.
There are also synthetic fabrics that mimic the look of natural fabrics in the Calgary furniture store- Showhome Furniture. These fabrics are more durable than their natural counterparts. They can also stand up to fading and are resistant to mildew.
One of the most popular synthetic fabrics is polyester. It's also a popular choice for dining chairs because of its durability. The fabric is often blended with other fibers to add wrinkle resistance and stain resistance.
Another popular choice is vinyl. Vinyl is durable and inexpensive, and it resists fading. It's also available in a variety of textures and colors, including leather-like finishes. It's also available in ornate embossed patterns.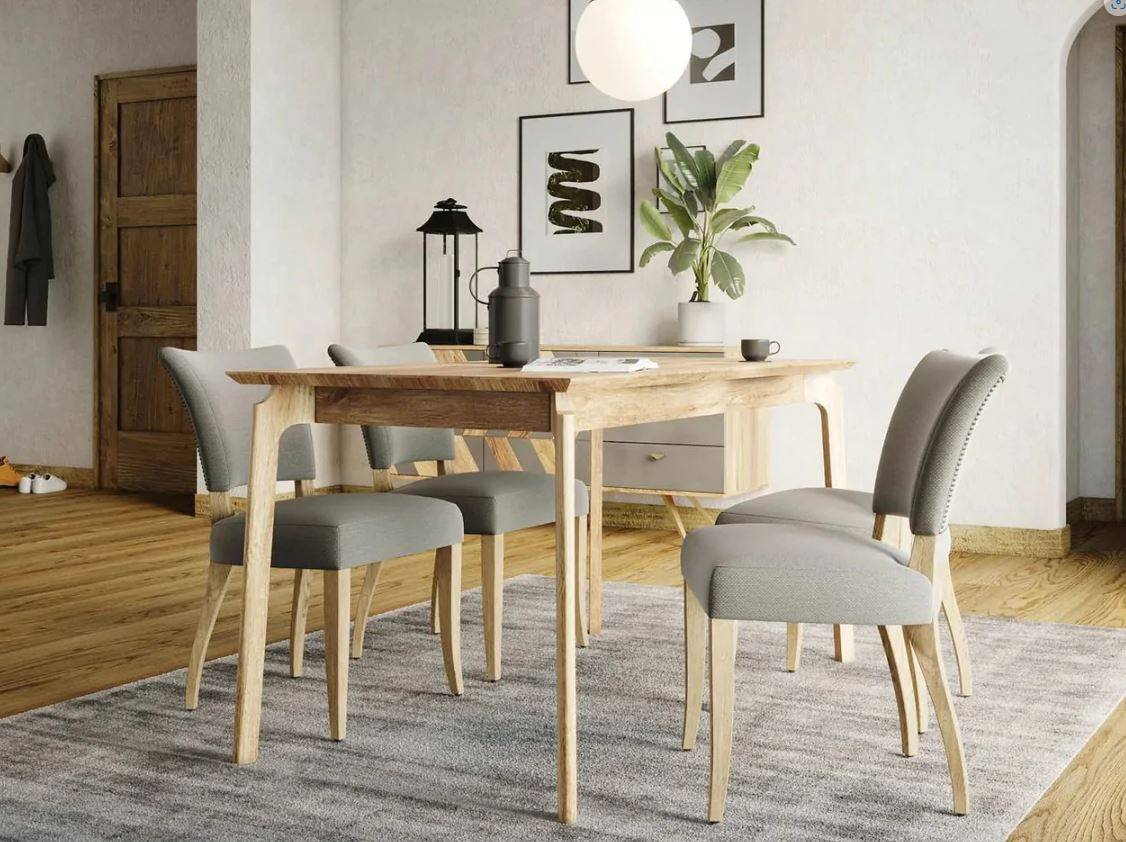 The fabric of choice for dining room chairs should also be durable and stain resistant. The right fabric can make your dining room chairs functional and stylish.
Wooden
Whether you are looking for a classic, traditional or modern wooden dining room chair design, there are plenty of options to choose from. You can find a chair that will fit with your existing decor and make eating more comfortable.
If you're looking for a stylish and comfortable chair, consider a padded faux leather seat. This durable and budget-friendly option offers a sleek black faux leather seat that is accentuated by a natural walnut stain. You can keep the chair's seat clean with a damp cloth and mild soap.
For a modern look, choose the best furniture store in Calgary. This line is made from sustainably sourced timber and hand-built when you order it. It's available in three different colors, including a deep blue. These chairs are also made with eight to ten inches of legroom.
The Leather-Arm Wooden Dining Chair may be the one for you. It's fully padded and features top-grain leather armrests. You can also choose from four different finishes.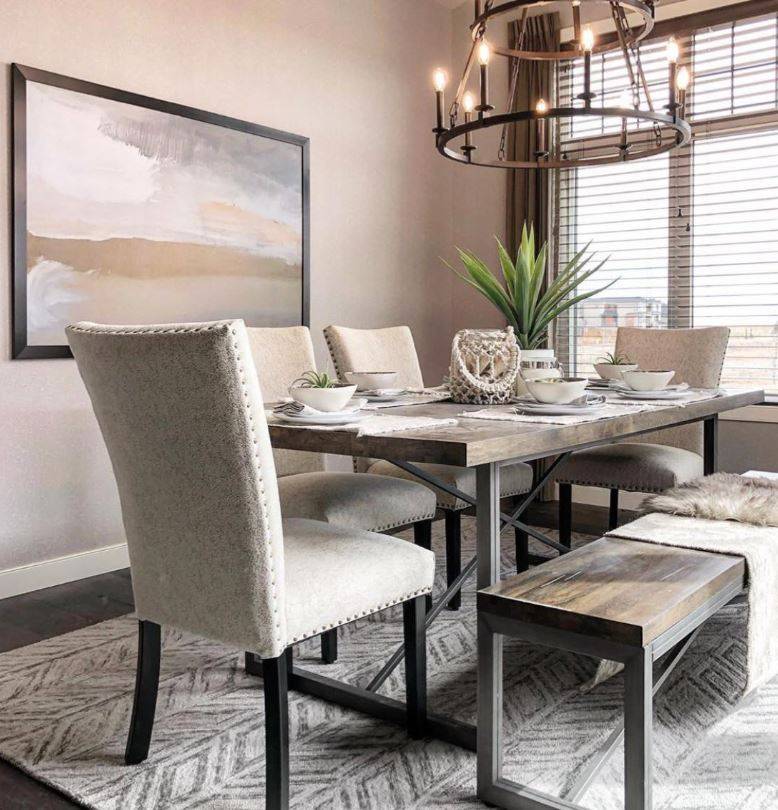 You can choose from a variety of designs, including the Wishbone-Style Wooden Dining Chair Set. This chair's barrel backrest and woven seat offer a comfortable seating experience. You can also choose from various price points.
Metal
Whether you're a design buff or just looking for a stylish new addition to your home, metal dining room chairs may be the way to go. Adding metal to your dining area allows you to blend contemporary style with industrial appeal. These chairs can come in a variety of colors and finishes, so you can easily coordinate your dining room's decor with your overall decor scheme.
Metal Dining Chairs are one of the many options available in Calgary furniture stores. It's stackable, has a transparent body material, and features a branch-like pattern on the back of the seat. The design is rated for indoor and outdoor use, and it comes in a variety of colors.
The Platner Arm Chair by Warren Platner is a great example of a slick modern design. The armchair is available in a variety of finishes, including polished nickel, bronze, and beige fabric.
The best furniture store in Calgary-Showhome Furniture has a great example of a slick modern chair. The chair features 400 handmade spot welds, a sleek design, and a solid wood base. The chair's nifty curved design has a number of nifty features, including a nifty faux leather seat pad.
The Fleet Brushed Nickel chair is another sculptural design that is a bit pricier than its neighbors. However, its design is more complex than its price tag suggests. The chair's metal legs are reinforced with plastic padding to keep your floors in check.
Upholstered
Adding upholstered dining room chairs to your dining room is a great way to improve your home's decor. These chairs are comfortable and provide the perfect place to relax. They come in a variety of styles, including modern and classic, and are a great addition to any dining room.
You can find upholstered dining room chairs in many styles, from contemporary to traditional, and in different colors and patterns. You can also choose chairs with or without arms. These chairs are great for dining rooms and living rooms. They also serve as an accent piece.
For an eclectic look, try mixing and matching upholstery fabrics and colors. A neutral color palette will blend with many different types of decor, while bright colors can make a statement.
Upholstered chairs are made of high-quality fabric that is tough against stains and damage. For example, cotton-blend upholstery is durable and provides wrinkle resistance. This type of upholstery is also treated with a stain-resistant agent.
Leather is another option for upholstered chairs. These chairs are made from durable and heirloom-quality materials. Leather can be buffed to a smooth finish. Leather dining chairs are also softer with use. This type of upholstery is easy to clean, as well as stain-resistant.
The price of upholstered dining room chairs can vary due to various characteristics. For example, a set of six chairs can range in price from $50 to $50,000.
Plaid
Whether your dining room is a formal affair or more of a family gathering place, there's a good chance that you'll be putting your wares to good use. Getting the most out of your diners is a matter of finding the right combination of furnishings to create a harmonious environment. For starters, you'll want to pick a few stylish and functional dining room chairs. From there, you can mix and match your furniture pieces to create a dining room that's not only functional but stylish.
You'll also want to look for a dining room chair that's on par with the rest of your home. While you're at it, you might want to consider a dining room table that's both functional and attractive. The best way to go about this is to purchase a few sets of dining room chairs, and then rotate them around your home. This way, you don't have to worry about committing to a stowaway.
To top off this list of dining room essentials, you might want to consider adding a few stylish accent chairs and side tables to create a diner worthy of your discerning guests.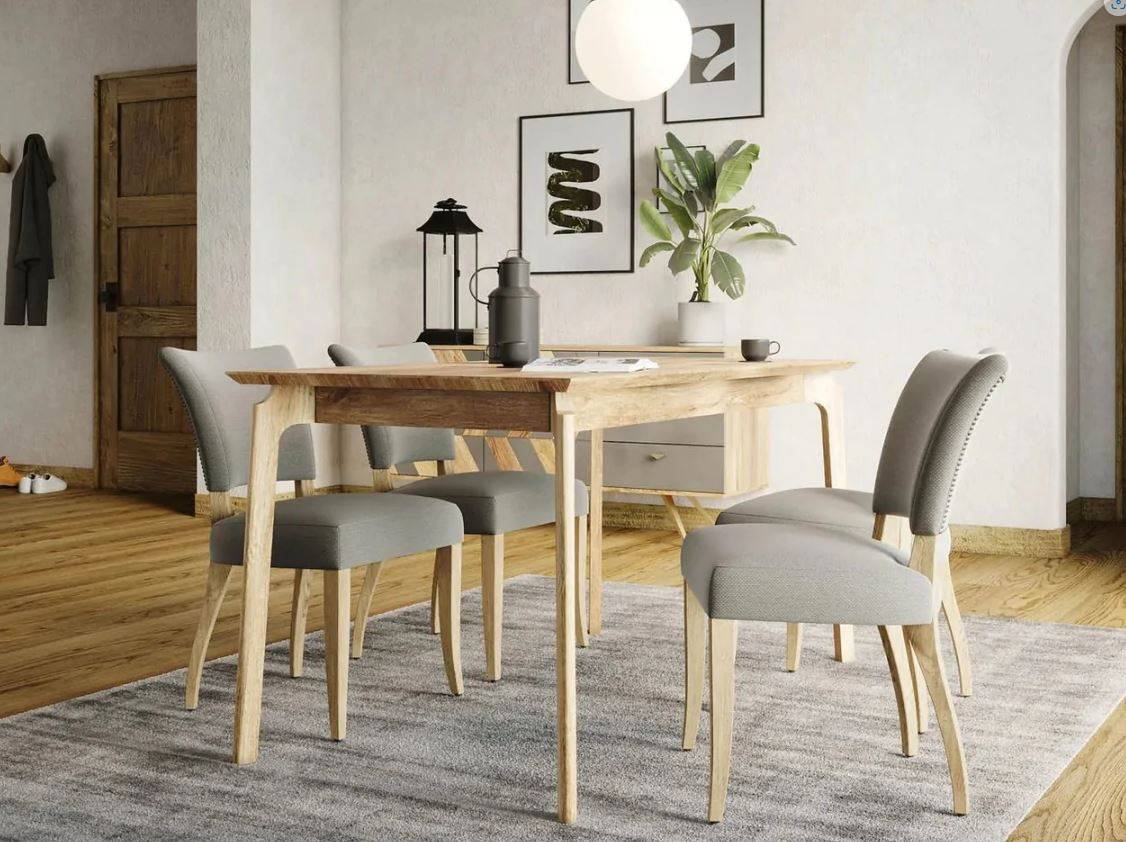 Industrial style
Whether you are looking for a unique dining table or you want to spruce up your existing dining room, there is no doubt that industrial style can give your space a clean, crisp look. While it is often used to refer to old factories, industrial style can also be applied to your dining room.
To create an industrial dining room, you need to incorporate raw elements and textures. You can also use plants and natural greenery to create an airy and fresh look.
For example, you can add a potted snake plant to your dining room. Plants are easy to maintain and give your space a natural look. You can also add some vintage bikes or unique accessories to enhance the look of your industrial-style dining room.
Aside from using natural greenery, you can also add some unexpected decor to make your industrial dining room stand out. If you want to go for a minimalist look, you can add some industrial pendant lights. They add a unique touch to the look and are easy to buy online.
Industrial dining room designs often feature metal lamps. The lamps have metal cages and large lampshades. They are usually hung in multiples to maximize light. The lamps should be durable, but also give the space maximum light.
Industrial-style dining rooms can also be decorated with industrial-inspired chairs. You can opt for different materials such as metal, wood, or leather to create the look you want.