While the most common color of leather sofas is brown, there are a few color schemes that can go well with this type of leather sofa in Calgary. Among these are Aubergine, Clementine orange, and Mossy green. If you have a modern look, try pairing a lighter color with a darker color like gray or teal blue. However, brown can sometimes clash with a cool color, making the combination look off-kilter.
Brown leather sofas
This colour is ideal for a living room, as it can create a sophisticated and elegant atmosphere. It can go with various colours, especially a rich green wall. In addition, the brown color will work well with other types of brown furniture. It is also ideal for adding texture to your room.
However, choosing the perfect shade of brown for your sofa can be tricky. There are many shades of brown to choose from, and it is important to consider other colours in the room before deciding on a color for your new sofa. The color of your leather sofa should complement other colors in the room, so try experimenting with the various shades.
Brown leather sofas in Calgary Furniture store- Showhome Furniture have a variety of complementary colors, so you can mix and match different shades to create a balanced room. You can also add some accents with complementary shades, such as white throw pillows and curtains. A white vase is also a great way to add some elegance to your space.
To make brown look even more attractive, consider using yellow accents. Yellow adds energy to brown while complementing the earthy tones of brown. However, it is important to note that the yellow color must be toned down when combined with a dark brown leather sofa. For this reason, pale lemon or mustard yellow will work best.
Mossy green
If you're feeling bold, you may want to try a mossy green leather sofa. It's an earthy tone that stands out while also being calming. Mossy green is a warm yellow-green that is both unique and versatile. It goes with a wide range of colors and is a great choice for a leather sofa.
This color goes well with a tan leather sofa and can also work with a pale rose or magenta color. It also looks fantastic with other muted colors, such as green and jade. If you prefer a more muted look, you can also go with a soft, blush-pink leather sofa. For extra flair, consider using matching curtains and walls.
Choosing a color is an important decision. Leather comes in a wide variety of shades, so it's important to choose one that suits your home. Keep in mind that the best color for a leather sofa depends on personal taste, as it is almost always the focal point of the room. In order to help you narrow down your choices, here are 25 inspirational images that will help you find the perfect color for your leather sofa.
Mossy green is a neutral color and works well with any color scheme. When used in moderation, it can look fresh and exciting. This color has been a trending choice for a while now, and many designers have been using it in their designs. Ash Howatson is the founder of Living Cozy and has her work featured in a number of publications, including FastCompany and Real Homes.
Aubergine
If you want to make a leather sofa more luxurious, you can use aubergine. This color has a warm, deep undertone, and pairs well with pieces made of leather and dark wood. It also has a sophisticated look that makes it a good option for bedroom and living room decor.
This rich color will add a touch of luxury and sophistication to any room. A leather sofa in this color will bring a hint of the outdoors into your home. The color also has a vibrant effect on the eyes, making it a great choice for living rooms. You can use it to create a focal point in a room with other bold, contrasting colors, or simply as a neutral to balance out lighter colors.
The color brown is another classic option for a leather sofa. This shade goes well with just about any aesthetic and doesn't show stains as readily as other colors. It can also fit in with rustic themes. However, you should choose this color carefully, because it can look drab if all the other pieces in your room are brown.
Mint green
This warm, honey-cream color is a great choice for a leather sofa. It pairs well with muted neutrals and earth tones, such as white, gray, and brown. A caramel-colored sofa is especially attractive against charcoal-painted walls. You can also use matching curtains to complete the look.
This color is also ideal for leather sofas in chocolate and light brown. It evokes feelings of peace and abundance. It also encourages creativity. Another color that pairs well with brown leather is lime green, the color of lime-citrus fruit. However, you should be careful when choosing this color, since it has different characteristics than other colors.
A leather sofa in this color will look good with most decors. It also won't show stains as easily as other colors, so it'll last longer. This color is also associated with power, mystery, and elegance. This means that it's a versatile choice that will complement any interior.
Dark colors like burnt orange or deep wine red can look great with mint green. Similarly, a dark wood color like chestnut brown will add a sophisticated touch to a room in this hue. However, you may want to consider using warm colors, like burgundy, to balance the colors.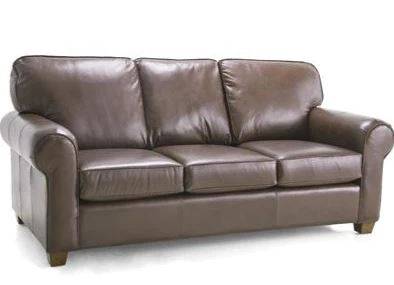 Navy
The color navy works with a wide variety of textures. This color can go well with both white and ivory-colored walls, while a darker blue works with dark neutral colors. However, when you choose a navy-colored sofa, it's important to use caution when choosing complementary colors.
Navy can anchor your living room's color scheme, while its cool undertones make it work well with any color scheme. A navy-colored sofa also remains neutral and can easily be changed to fit the new decor. If you want a sofa that stands out from the rest of the room's decor, use a darker shade.
When choosing a color for your leather sofa in Calgary , make sure you choose a neutral hue. A brown leather sofa will look good with many different colors, and it's an excellent base color to build off of. You can always add accessories and paint to make it more exciting. Ash Howatson is an interior designer, and her work has appeared in MyDomaine, Realtor, Real Homes, and Architectural Digest. Ash has also been featured in FastCompany, Home, and Garden, and Entrepreneur.
If you're looking for a more modern look, navy is a great option. Pair it with a mid-century modern look, or mix and match different metal finishes to create a more contemporary atmosphere. You can also incorporate silver metallic to make the room feel more contemporary.
Grey
When buying a leather sofa that is in direct sunlight, it may fade and cause discoloration. If the room will be in a shady area, you should opt for a darker shade like gray or cream.
There are many other colors available for a leather sofa, which can make it even more versatile. While black, brown, and white are the most common shades, there are several others that are equally pleasing to the eye. Red, for example, is striking and goes with many interior schemes. Black also goes with a wide range of palettes.
If you're looking for a more classic color, brown leather is an excellent choice. It is versatile, going with most living room designs. It also has a warm look that can complement any theme or aesthetic. It also adds character and contrast to a room. However, don't go too brown, as it may seem drab if all your furniture and accessories are brown.
A neutral brown leather sofa will also work well with most other accent colours. An orange cushion will go well with a dark brown leather sofa, as will a tartan throw blanket in orange or yellow. The addition of greenery will also tie the colour scheme together. The best furniture in Calgary- Showhome Furniture is an excellent choice because they can offer you a variety of style of leather sofas.