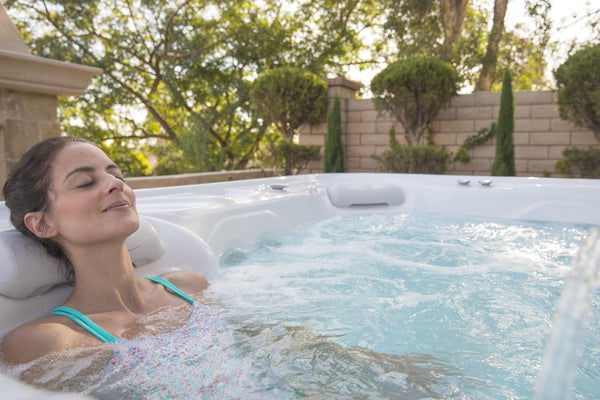 June 02 2021
10 Questions to Ask Before Buying a Hot Tub
Here at Showhome Furniture we believe in making sure the customer is happy, and has the best possible product for the best possible price. That's is why we want all our customers to ask questions when they visit us. Are you shopping for a hot tub? Here are at least 10 questions you should ask before buying a hot tub:
1. What am I going to use this for?
Are you looking for a place to gather with friends and party late into the night? If so a larger more spacious tub is the tub for you. Are you looking to just relax on your own or is it to treat muscle and back pain? All of these questions must be carefully considered when choosing the perfect hot tub!
2. How easy is it to operate?
Are the controls simple and easy to use? Do you understand what each symbol means and how to achieve exactly what you want by changing them?
3. How Easy is This to operate?

Is your new tub going to be more difficult or easier to operate than a fancy hot tub with lights, music and specialized jets? Are you looking for a luxury experience or hoping for something that doesn't require much thought to operate?
4. How quiet is this tub?
Are the jets noisy? What about when the jets are turned off, is it noisy? If tranquility and sanctuary are your main objective our staff can point you out to the tubs with silent circulation systems.
5. If this spa is for health purposes, does it have the specific therapy that fits my needs?
Are you looking for relief in your back, your legs or your bum? This matters when considering the placement of the jets that you'll be using in your new hot tub.
6. Can I customize?
Do you care? Some people love endless choices, some are happy with just a few. Make sure you get exactly what YOU need when looking for your hot tub.
7. Can my hot tub give me cold water therapy as well as hot?
Some tubs just turn on the jets when the water is hot, some can do it when it's cold as well. If you are looking for a tub for health benefits this might be a good question to ask.
8. When a tub says it sits 6 or 8 what does that mean?
Make sure you find out exactly what it means when a tub advertises how many it can comfortably seat. What's comfortable for you may not be what's comfortable for me!
9. Is there a warranty?
This is a really important question if you are thinking of investing $1,000s of dollars on a hot tub.
The Beachcomber tubs come with a warranty and a guarantee:
Guarantee

One thing we love about Beachcomber hot tubs is their 30 Day no risk guarantee! They let you take home the tub, test it out in the privacy of your own home, and if for any reason your new Beachcomber hot tub doesn't live up to your expectations during your trial period they are are committed to finding a solution!
Warranty
According to their website "Every Beachcomber Hot Tub comes with a solid Guarantee, no matter where it is placed in our price ladder. We want everyone who purchases a Beachcomber to feel good about their purchase. That's why we care about every hot tub customer, from the lowest priced to highest priced and everything in between.
We are happy to provide the support you need to have the best experience with your Beachcomber. This is why, for a small fee, all Beachcomber Guarantees are transferable to a new owner. The new owner can have the balance of your equipment and component Guarantee protection with a simple signature. However, do remember that Beachcomber hot tubs are portable and can be moved to your new home.
The lifetime structural guarantee is only to the original owner. (Beachcomber guarantees to the original owner that the structural laminated fiberglass composition of your hot tub will never leak). The remaining portion of the Beachcomber Standard Guarantee is transferrable once in the lifetime of the Guarantee."
10. How long is this tub expected to last?
Most tubs on the market are expected to last 5 years. Beachcomber tubs are expected to last your lifetime! It's important when considering what tub to buy that you know how long your investment will last. 
If you can't tell, we are in love with this tub and we are excited to start carrying! If you'd like a Beachcomber hot tub come to our large showroom located at North Hill Centre and talk to one of our staff members about finding the perfect fit!

Thanks for reading, and I hope we see you soon!