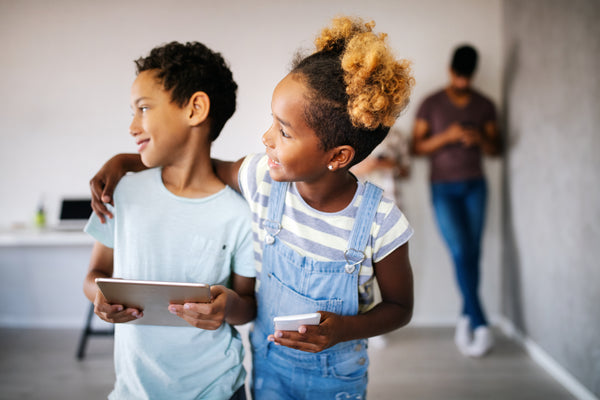 April 22 2020
5 Tips for Controlling Screen Time During Self Isolation
5 Tips for Controlling Screen Time During Self Isolation
I am sure that many, many parents are worried about the amount of extra screen time that their kids are getting during self-isolation. To not have increased screen time is impossible as most kids are doing their school work online and online is the only way they can socialize with their friends. That means that establishing healthy rules and boundaries around screen time is essential for most families.
Here are a few tips that I have found helpful when considering screen time for my kids.
1. Focus on Quality Content- My kids can spend a lot of time learning online. I LOVE that! I try to make sure that there are no limits on how much time my kids spend learning but there are strict limits on WHAT they can spend their time learning/watching.
2. Focus on Content Not Time-  If your kids are in high school and are spending 8 hours online doing their school that isn't a problem. But if your kids are spending 8-hour scrolling Instagram and Snapchat then that IS a problem. Establishing rules about CONTENT that is happing online can go a long way to helping you support your Child's learning as well as manage their online time.
3. Safety First- Safety is monumental in kids' online time. That means our computers are in public places and as the parent, I am constantly monitoring what groups, chats, and forums my kids are on while they are online. This also means that devices don't go in bedrooms, and teenagers with devices check them in at night time. No, your kids will not like this, but yes you are the parent and it is your responsibility to keep your kids safe from online predators.
4. Timing of Screen Time- I love my kids to do their school in the morning when they have the most amount of clear focused energy. That means that leisure screen time is not going to happen in the morning. Instead, we are going to save that for the afternoon or evening.
5. Balance Screen Time with Physical Activity - Remember that during COVID-19 most of us are not able to get the same amount of physical activity that we are used to. There are things that kids can do using screens that also help them engage in physical activity like exercise games, active video games, and online dancing, stretching, or yoga classes.
6. Consider their health- Every child is different if your child is easily overwhelmed by too much time or screens hurt their eyes, of course, those things should be considered when planning how much and when your child should have screen time.
I get that it's hard to self isolate, but there ARE things you can do to stay healthy mentally and physically! Shopping can also be a fun way to relieve mental health, and with Showhome Furniture Calgary we help you do all your shopping, in exclusive- 1 on1 video chats! Just call our store and we can arrange a session to take you around!! We also offer curtsied delivery anywhere in Calgary for only $99 and $199 in most other places in Vancouver or Alberta.
Showhome Furniture is ALWAYS OPEN for online shopping! We have people at our warehouse who are happy and willing to take you on a tour and arrange ordering and delivering of furniture during this challenging time. We've got your back, and can't wait till the time comes that we get to meet again in our store!!