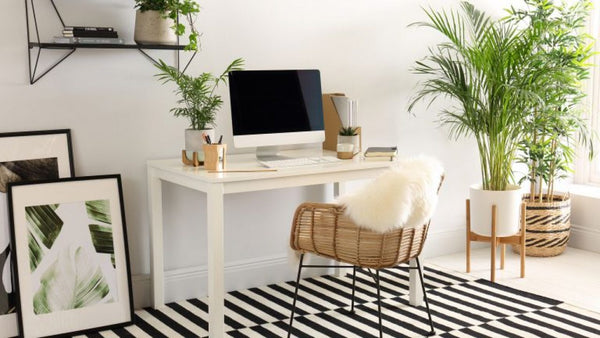 May 06 2020
5 Ways to Create Flexible Study Spaces at Home
Hi, ladies! Are you struggling to find the perfect clutter-free spot for your kids' homework and projects? Do you want to have a flexible and organized study zone even if you have a small space? Well, you are just in time for some good news! We gathered 5 creative ideas to innovate any area in your home into a functional and flexible homework area.
Studying and finishing home works and other tasks can be much easier when they are done in a cozy space like the comfy couch in the living room or on top of the kitchen counter instead of doing them in an isolated room. This makes it very much convenient to ask questions and get help from others in the home. As much as it is positively stimulating, it can also be the cause of a huge mess when creativity and organization are lacking. If you find your household stuck in this kind of problem, then you might be needing these organization tips for a more flexible study zone in your home.
1. Customized Kitchen Island
Remodel your old kitchen island into a new one with a sleek hidden shelf. It's perfect for when you need a functional study area without having to worry about the aftercare cleanup when the area is needed for cooking and meal prep.  If you wish to add more functionality, you can also put some hidden outlets to charge laptops and other gadgets.
2. Hanging Homework Organizers
 Having a designated area where paper materials and supplies are collected is a good way in sneaking in a homework zone even in the smallest of spaces. You can attach some sturdy hooks along with baskets and organizers to the back of the common closet cabinet in the household. You can hang their library books and their backpacks, whatever works for them.
3. Portable Homework Cart
 If your study spaces change from time to time, then you might want to organize materials and supplies on a rolling cart. This is a flexible way to keep the homework space as tidy as it can be, no matter where it is.
4. Portable Drawers
This is perfect for when the kitchen is considered as the common homework or study zone in the house. You can innovate your old kitchen furniture by clearing out a couple of kitchen drawers and stashing them with school supplies. In this way, your kids can simply bring their portable school supplies drawer onto the table and be able to put them back neatly afterwards.
5. Cabinet and Cabinet Organizers
Incorporating low cabinets and sleek bookshelves near the dining area is a great way to make your homework zone neat and tidy since papers and books will just be easily shelved and stashed inside the cabinet and cabinet organizers. Our Bolanburg Bookshelf is perfect for its sleek and functional form. You can purchase this shelf and many others in our store. www.showhome-furniture.com
Which of these tips worked best for you? Feel free to share your thoughts on the comments below. Do you need some professional design advice or planning? We offer a FREE Virtual Design Consult.  Click here to book.