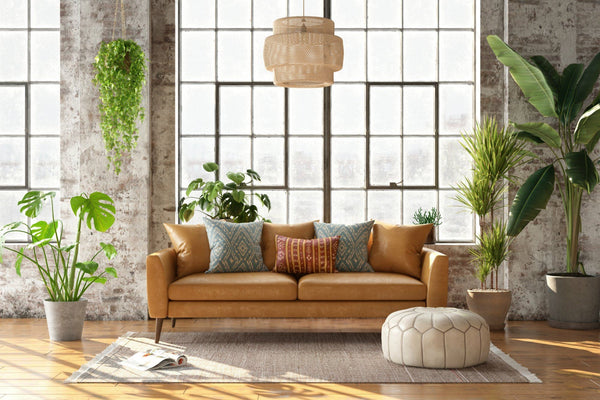 February 18 2020
5 Ways to Give Your Living Room a Cozy Makeover
Hi there, ladies! There is nothing more perfect than giving yourself the coziest relaxation after a very exhausting day at work. And even if this is truly important, most people still have a hard time making their living rooms cozy and comfy. There are a lot of furniture, decoration and style options to choose from out there and it can truly be overwhelming. But worry no more! We have gathered 5 easy ways to have a cozy Instagram-worthy living room where you and your family can spend quality time together.

1. De-cluttering
The most essential aspect in designing any space is organization. It's a no brainer that walking in a neatly arranged living room can give you calming feelings of peace and relaxation.
Book shelves are a great way to an effectively organized space. You can find a wide range of bookshelf options in our website. One of them is the Starmore Bookcase; our bestselling one yet for its sleek and modern form. It's fully functional as it has five gallery shelves for keeping your living neat and tidy.
Or check more of our bookshelves options here: https://showhome-furniture.com/collections/book-cases .
2. Extra Blankets + Extra Pillows = Extra Coziness
Pillows and blankets are basically staple items when it comes to coziness and warmth. Our Knitted Pom-Pom Throw features large white poms for extra personality and style. Adding them in your living room, paired with natural lighting makes your room even more relaxing.
Another way is to add some different touch on textures and patterns such as faux furs, knits and fringes. That way your living room will be both cozy and stylish at the same time. 
3. Scented Candles
We love it when our home smells good. Scented candles are used not only for their fragrance but because they help in changing our mood. They help stimulate our senses in different ways through different scents. Lemon scented candles make you feel fresh while those who have lavender scents make you feel calm. Studies show that they are helpful to those who have insomnia as the scents can help you fall asleep.
4. Add Some Greens!
Adding your favorite plants can make your living room feel more alive than stuffy. Snake plants are your go-to since they look amazing in any style, but you can definitely add whichever you like. With putting houseplants inside, your living room will not only be spacious, but you get to breathe fresh clean air in it too!
5. Rugs for more warmth!
Just like throw pillows, adding rugs is perfect for when you want to add brightness and warmth to your living room. Pairing it with natural lighting, your room is cozier as ever.
Invest in durable and high quality rugs that would definitely last. Check out www.kalora.com for different rug variations and let us know which one you like and we can get it for you. We would be very happy if you can come in so we can show you what we have in the store! 
What's your current theme for this month? Feel free to share yours on the comments below.
Do you need some professional design advice or planning? We offer a FREE 1-Hour In-Home Design Consult. Click here to book.