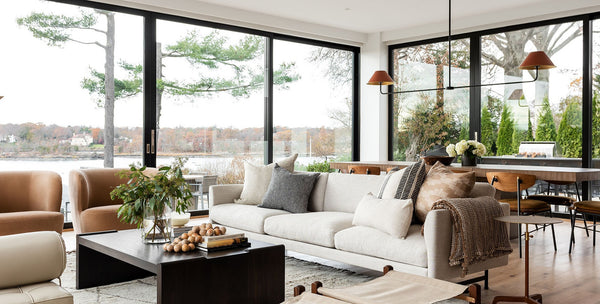 October 26 2021
7 Tips To Wow Your Guests!
Are you dreaming of making your home into a Showhome? You've come to the right place. Today I'm going to give you my BEST tips on making your home wow your guests!
To create a wow factor when designing your space, you need to surprise your guests. Don't have the same boring colors or layout as everyone else. 
Here are some excellent decorating tips to make YOUR house stand out from the crowd.
Draw Their Attention
All good designers know that when you design your room around a focal point it adds immediate interest and attention grabbing character. A custom made bar, lit cabinet, free standing fireplace can increase the visual impact of your room the minute guests step in the door. In your games room, it might be a stunning pool table light fixture, or in the office it could be an executive office desk. Whatever you choose, remember that just ONE focal point in a room can make the room look expensive, even when the other furniture is more budget friendly.
Go Big!
Massive pieces of artwork, or accessories add character and 'wow' to any room. Huge rugs, gigantic lighting fixtures, oversized furniture or even a wall to wall sculpture can set you apart. Keep in mind that one gorgeous piece that is astounding is infinitely better than numerous small pieces of art that are mediocre or boring!
Choose Quality
Most people can feel when a room feels cheap or when a room feels quality. At Showhome Furniture Calgary we try to give you the highest quality furniture for the best prices possible. We hand source our furniture, and fly across the globe to choose pieces of furniture, art & decor that is authentic and gorgeous. We never settle on quality! Choosing top quality pieces for the room is especially important when yo useless your furniture. Cheap and poor quality items never get a wow! Keep in mind that quality does not always mean more expensive, hitting up the local thrift store can uncover incredible finds that look nothing like Ikea's mass produced furniture! If you are confused about this, pop into our Showhome Furniture store in Calgary and ask us about our best brands, and don't be afraid to investigate the construction of the furniture you are buying. A timeless design that is both durable and beautiful is an investment that will last a long time!
Be Brave
Soft grass, whites and other neutral colors can be lovely, but if your own personality dictates something bolder don't be afraid to give it a try! A bold, bright accessories like pillows and rugs can easily be replaced later when your style changes but can make your place scream 'AMAZING'. You can also use your bold colors or fabrics in your throw pillows or as paint on the wall. Remember paint can always be changed later. Selecting florals, graphic patterns or bold geometrics can attract attention and impress your friends.
Make the Space Your Own
Never be afraid to claim your space. Your home is your sanctuary. It's your sacred place of peace. You have the right to make it exactly how you want it to be. Including unique items to personalise the space makes it feel authentic and homey. Unusual items, like family heirlooms or pieces of furniture that remind you of a favorite place you've visited can be made right at home in your living room or bedroom.
Lighting
Lighting can make a huge difference in the way your home feels. It's the number one thing I think of when trying to influence the 'mood' of a space. Consider having big bright lights from above, or a spectacular chandelier that will grab someone's attention. On the ground have lights in different planes, some at eye level and some on the floor shooting upwards. It's amazing how incredible lights can be when being used as a influencing agent in the homes most beautiful spaces.
Texture
Texture isn't something that most people consider. That means if you want to stand out from the crowd, consider making an entire wall of texture. Use texture in your pillows, or texture in your carpets, it can go a long way in adding interest to your space.
Remember that at the end of the day your home is yours! Use the 'Wow' factor that most suits YOUR loves and desires. Don't be afraid to try something new, style your home the way that you'd like it and using a few of these tips you will be sure to impress your friends and guests as well! If you want expert interior design help, grab the opportunity to Book your FREE Design Consultation from Showhome Expert designers.