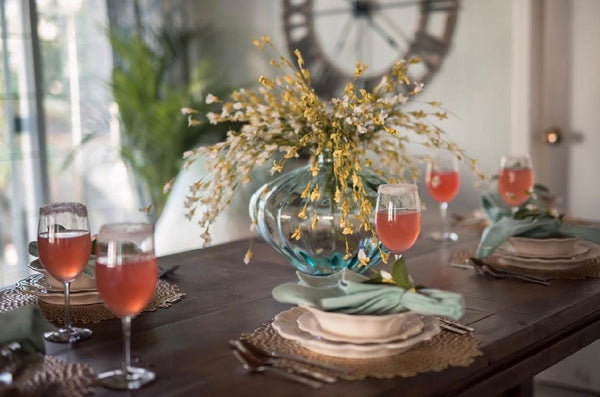 March 15 2019
FARM HOUSE KITCHEN MAKE-OVER ON A BUDGET
Hello lovelies!
We are so excited to share with you what's been going on behind the scenes here at Showhome Furniture. As most of you know our family travels around and does free make-overs on different people thru-out the world.
We love giving back to our community and helping out those who need a little hand up! We feel so blessed and love to help out as a family in small ways! We are so thankful for the amazing people of Alberta who shop at our HUGE 70,000 sq. ft. store so we are able to give back.
This "farmhouse kitchen on a budget make-over" was given to a very busy mom with four little kids! She is such a sweet lady who lives on a very, very tight budget and was beyond thankful for what SHOWHOME did for her.
Here's what the kitchen looked like before.
The transformation was amazing!!! 
Her sweet hubby painted all the cabinets and counters. We did light sage/sea foam green up top and grey tones down below with a white counter.
STEP ONE: 
For the GREEN counter we primed it with 1.2.3 BULL'S EYE white primer. 
STEP TWO:
We then painted  it with white porch paint.
STEP THREE:
Gather your supplies: feather, paint and sponges.
Take a sea sponge and rip it into a few pieces. We had three tones of grey latex paint and dabbed it on and wiped it off where we wanted less.
We did not want it to look sponged on so we added veins with a feather dipped in dark grey. 
STEP FOUR: Make sure the veins go in different directions so they appear more realistic.
STEP FIVE: We then painted on several clear coats of satin water-based varnish.
Here's the finished product.
DIY BACK SPLASH FAUX BRICKS
We simply took drywall spackle and put it on the wall. 
Before it dried we draw in the brick design and after it dried we painted it white. 

Here's what it looked like when dry.
After the counters and cupboards and backsplash were painted we moved on to the walls which her hubby painted in light sage. 
Then on to the vinyl floor.
I really wanted to give her kitchen a WOW factor so I got her hubby to paint it in light and dark grey stripes.
I didn't want it to look like a gym floor so we did them in large stripes (the exact size of a standard roller😜)
STEP ONE: Prime the floor with 1.2.3 BULL'S EYE PRIMER
STEP TWO: And then we used light grey and darker grey porch paint and taped off stripes. After it dried her hubby painted on a coat of varnish.
Then we staged up the top of the counters and mantel. We pulled in a little fabric chair and a nice green plant and stool for relaxing. We also added a big wooden clock, what's a farmhouse kitchen without a clock 😜
We added some bar stools for kiddies and staged up the table with beautiful china!
We ended the space with personal photos of her family in frames her hubby made! We really like each space to reflect the home-owners so the pics were the perfect touch.