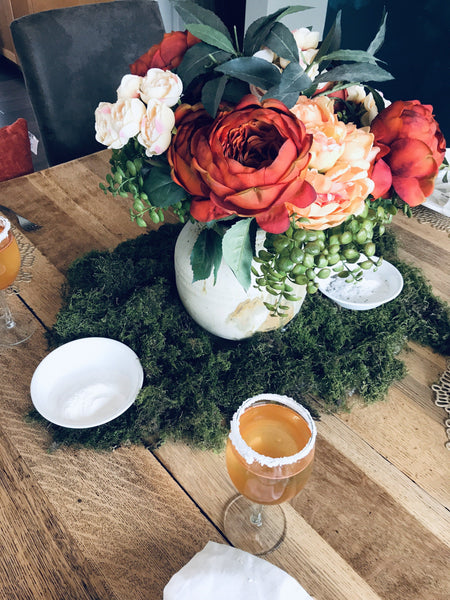 March 20 2019
FREE DESIGN MAKE-OVER FEB WINNER
Ladies, we just finished doing an amazing free design makeover. One of our favorite things about this design was the feature wall. The winner is a very colorful person who is also very classy. We kept the furniture modern with a mix of rustic items. The overall living room and dining room design was based off of a colorful floral painting that we bought. 
The sofas were custom made in Canada in a classy silver color. We loved the fabric as it reflected a silver sheen that was also in the carpet. The sofas were made in medium foam which I would recommend sofa and comfy and not to stiff. You can see them here on our website. https://showhome-furniture.com/
We enjoyed this project so much. Here's the five simple steps for making an awesome feature wall. Remember to subscribe to our YouTube channel  (http://bit.ly/SalaFamilyMakeovers) and comment as we are picking a new free makeover every month.
FEATURE WALL STEPS
STEP ONE
The first thing you need to do is determine what color you want to use...in this case, we went for a deep teal color called midnight blue.
STEP TWO
You will need a stiff brush and three containers to put your paint.
STEP THREE
Put your deepest color in one container. Your white in another container and grey in the third container. We mixed part of our deep color with the gray. Because we wanted to make it have a cloud like effect we started from the bottom in our darkest color in different patches. 
You take your paintbrush and you go in crisscross motions.

We also used a spray bottle to spray the wall so to blend the colors. 
After we had mixed in our three different colours and blended them we let it dry. Then we went back in and entered in our highlights. 
STEP FOUR
We added in the gold leafing,  it's very simple to do. We got it wet and pressed it into the paint in strategic places to give it that classy glow. Here is the finished product.
When designing the dining room we went with a reclaimed rustic table they had and added on some living moss. We also used some organic dishes that the client had from one of her trips. We added the teal napkins and gold silverware. For the centerpiece we made an arrangement with orange and peach colors.
For the living room we kept the colors mainly neutral and just accented with accessories. 
When designing I like to carry the theme colors in at least three places in the room. So in this case it was the bright colors from the painting. 
So we echoed the colors  in the throw pillows, the feature wall and the flowers on the table.
We also brought in a
beautiful marble table
from our store that really added modern luxe look to the room. 
One of my favourite things to do is staging up a bookcase. In this case we got a reclaimed bookcase from our store and staged it with glass elements and pictures of the client.
We finished off the design with some fall plants one in the corner and one hanging from a metal basket from our store.
To see the full revealed please watch it on our YouTube channel (http://bit.ly/FebFreeDesignMakeoverWinner) 
This was such a fun project we hope to come to your house soon remember to comment and subscribe to our channel and on this blog thank you so much love the ShowHome Furniture family. You may also win a Free Makeover that we are doing monthly.