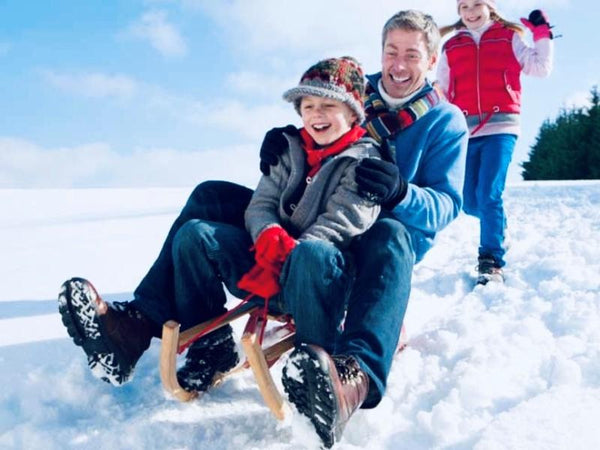 December 11 2018
Fun Things to do with your Kids in the Christmas Season
Christmas time is my FAVORITE time of the year!  Ever since I was a little kid the most memorable part of Christmas were the days leading up to it. My fondest memories were created when my family participated in activities together. 
It wasn't getting the gifts on Christmas morning nor the new Calgary furniture we have just bought that left the biggest warm spot in my heart, it was the time we spent together, the relationships that were strengthened, and the opportunities to serve. I want to share with you 12 activities that I loved as a child and still today:)
1. Go Sledding. Conclude with some yummy egg nogg, hot apple cider, or hot chocolate.
2. Make sugar cookies and decorate them.
3. Secret Santa/Ding Dong Ditch the 12 Days of Christmas. This is especially rewarding when it's for a family who is struggling and in need.
4. Make Gingerbread Houses. The best is with graham crackers rather than the store-bought package, then you're forced to use your imagination, and it's SO MUCH FUN. Turn it into a competition if you like (with everyone a winner).
5. View Christmas Lights. Check online to find the neighborhood with the best lights. As an adult I love this activity even more LOL!
6. Goboutside and collect branches, trimmings, pine cones and make table decorations...get creative decorate up your mantel and railing with real elements! So pretty!
7. Donate a Shoe Box. Find a charity that takes toys or living essentials to the less fortunate. Showhome Furniture did this for the kids on a First Nation Reserve and it was a very rewarding activity for our children.
8. Watch a Christmas movie as a Family. Dress down in your PJ's, grab some pillows and blankets, and some Christmas treats and drinks. Then dive into your favorite Showhome Furniture sectional and enjoy the magic!
9. Go Christmas Caroling in costume! Take a couple plates of homemade goodies with you to deliver with a song. We bring Our speaker so we have background music for singing...it's our secret for sounding good! 😜
10. Do a Service Project. Find a local soup kitchen, or shovel someone's driveway.
Contact Showhome Furniture if you know a family in need. We love helping and this CHRISTMAS we will be doing some fun activities. You can also refer us to your friends if they are struggling with interior design because we offer FREE Interior Design consultation with no obligation to purchase, we are here to help!
11. Read a Holiday Classic. We did this before bed each night. It's a perfect time for egg nogg and cookies.
12. Attend a Live Nativity Pageant. Or creche/nativity exhibit. Make sure your kids know what Christmas is all about. Down at HERITAGE PARK in CALGARY The Church of Jesus Christ of Latter-day Sasints church puts on a free live nativity for the public! 
Your kids will never forget these special times together.  Leave a comment below about a fun activity you like to do. I'd love to get more ideas! 
And be sure to follow Showhome Furniture on Facebook for any upcoming contests and promotions.

Love the SHF FAMILY