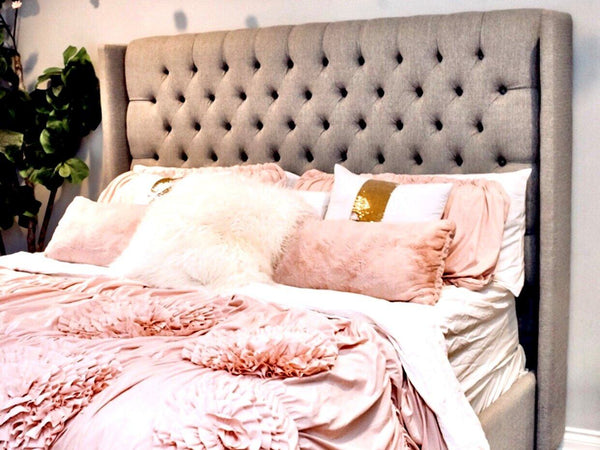 January 26 2019
How to Decorate for Valentines Day in 5 Fun Easy Steps
Hello, my lovely Valentine's! It's the season of love and time to get your home into the Valentines Day spirit. I've come up with 5 fun and easy steps to give your home some pretty Valentines Day charm.
1. FLOWERS
Bring home tons of flowers. Spring is just around the corner so you'll start to find your pretty little tulips and crocus's popping up in the stores. Bring home all the pink, red, and white flowers you can find. If you like more romance in your decorating then grab yourself a bouquet or two of roses in whatever color you like. If you want to have some more fun with it, fill a vas full of candy and arrange some faux flowers in it.
2. CANDY
This is a perfect decoration that will also satisfy (or provoke) your sweet tooth. Fill some pretty little dishes and jars with pink and red m&m's, or candy hearts. Mason jars are also a cute alternative. set your table with wine glasses full of pink and red candies. And fill some elegant apothecary jars (which I am in love with) for your table center piece.
3. DECORATE IN BLUSH, WHITE AND RED. 
Nothing spells 'love' louder than the color of LOVE! RAD BLUSH AND PINK! Pull out your blush comforters and plush pillows! Make or find a lovely heart shaped wreath for your front door, get some heart shaped pillows for your couch, heart shaped place mats for your dining table, and add a cute garland of hearts to your mantle.
4. SIGNS
Find a sweet little saying and write your own chalk board sign. Check out some of the seasonal signs and chalkboards at Showhome Furniture, we always have cute new pieces. Or look for a simple pallet board sign to put on your wall. Have some fun and make your own pallet board sign with some nails and paint if you'd like.
5. PILLOWS AND THROWS
This is the ONE time of year that you can get away with pink home décor and not upsetting the man of the house... So milk it! Pull out all your pretty pink pillows and blankets, and maybe even splurge on some new ones for your collection.
Look for all different textures, shapes, and patterns, and pop into Showhome Furniture  to see what gorgeous pink and red pillows are in at the moment. 
Let the fireworks happen this month! I hope you have fun decorating for Valentines Day with these 5 easy steps! How do you like decorating for the month of love? Let me know in the comments below!
❤️SHF FAMILY