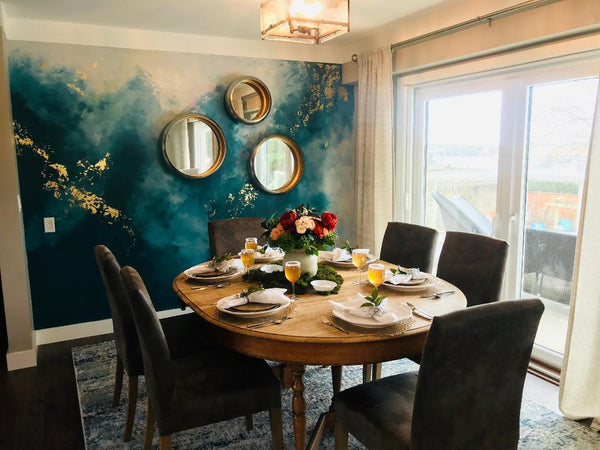 February 11 2020
How to Decorate Using Mirrors
Decorating using mirrors seems like a simple idea, but there is actually more to it than first meets the eye :)
Here are a few tips that we've learned from Showhome Furniture Calgary's Top Designers about decorating using mirrors!
1. Consider the reflection
Before hanging a mirror permanently consider what is across from it. Is it the door to the bathroom or kitchen? If so, rethink where you are going to hang your mirror, because what is reflected in it is just as important as the mirror itself! I always place my mirror and consider whatever is being reflected in it as part of the actual design of my space. If I hate the shapes or the colors, or the reflection is unsightly than I find a different location for the mirror.
2. Think Big
The larger the mirror you hang the more light is going to be reflected from it. If you have a big wall, hanging several mirrors or one huge mirror will do wonders for adding interest and beauty to your space.
Big mirrors in big spaces look amazing, and big mirrors in small spaces look amazing, so you can't really go wrong when it comes to decorating your space with mirrors!
3. Style Matters
The style of mirror matters!  A pair of large arched window mirrors bring balance to an otherwise boring and neutral living room design. Mirrors can be used to bring style to the bathroom, the bedroom, the entry way, the hallway, the living room and even the kitchen!
4. Create a Focal Point
A beautiful bold mirror can be the focal point of any room! Extra large mirrors reflect light from outside and can be used by family members and guests as a way to check themselves while walking through. If the mirror is placed correctly it serves as a focal point for the room as well as the design piece of the room.
5. Add Glam with your mirror
Mirrors are definitely in 2020! But its not just the mirror itself that everyone is going crazy about, consider adding a mirror feeling to your space by using a mirrored frames for your art, a mirrored tile for your kitchen, a mirrored tray for your table, or even a mirrored dresser for your living room. Mirror says 'sparkle, shine, and impress' which of course all of us want to do! If your room needs a touch of 'glamour' than please, pick up a mirror or two and hang it up!
If you want advice or suggestions on decorating using mirrors, don't hesitate to visit us at either of our Calgary Showhome Furniture store locations (North Hill Centre or Deerfoot Meadows)! One of designers would be happy to assist you in picking out the PERFECT mirror for your space!
Thanks so much, and tell us what your favorite way to use the mirror is!