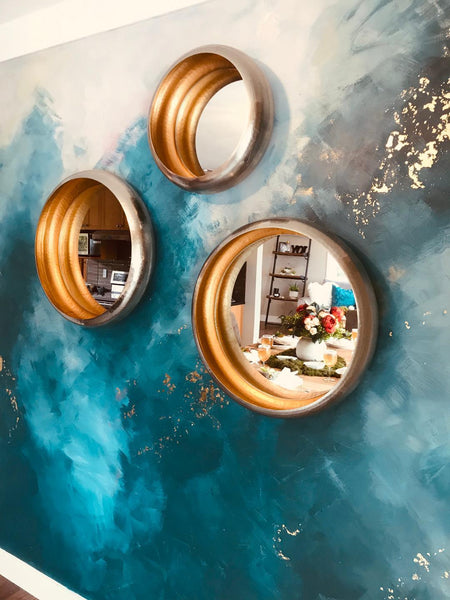 January 09 2020
Paint Ideas to Beautify your Living Room this 2020
Hi guys! One of the most essential decorative ideas we can add to our living room is to paint it with a fresh and trendy color. It also adds a wonderful result if we combine different trendy colors. Here are some paint ideas to beautify your living room this 2020.
People tend to think that choosing a color to paint our rooms can be very intimidating and overwhelming at certain times. Hence, we just stick to using white paint with the mindset that it goes with everything and it makes the room spacious. Yes, this can be true. But in the modern world, we are very much encouraged to opt for the color that we personally like and still be able to style them as neatly and beautifully as we desire just like when we chose to stick with white paint before. 
The key element in opting for your desired color is being able to effectively combine hues and tones, which, by the way, have more variations in the modern times than before. We now have the decision to either go for more neutral tones such as white to allow a sense of amplitude or opt for darker hues, which give off a whole new different appearance and vibe to your living rooms.
Here are some paint colors and combinations that you can use to beautify your living room this 2020.

1. Gray
- This is by far, the most proposed color in different novel proposals of 2020. You can paint your wall gray and pair it with different furniture with the same tone. It can also be combined with different shades of gray or with the color white. If you wish to make your room give off a more modern vibe, you can pair your gray wall with blue furniture.

2. Sky Blue (or any soft blue tones)
- The color blue gives a very relaxing ambiance to your space and is very versatile that you can add it with different styles and furniture.


3. Beige
- If you wish to put on a minimalistic touch to your space without it looking too plain or boring, you might as well paint your wall beige. It's one of the most common neutral paint people choose since it's neither too boring like white nor too edgy like every other strong color. You can opt for a beige wall and combine it with a white ceiling, and your room will look very simple yet very well-put together.


4. Orange
- It can be a very strong color but can be a very wonderful touch to your room if you can combine it with a correct hue. White is the most recommended because it helps in balancing the strength of the color orange and gives off a different relaxing vibe to your space.
 5. Yellow
- Like the color orange, yellow is also considered as a very strong hue that it makes us nervous rather than being relaxed. But if we effectively apply the principle of the correct way of combining different colors and tones, this color can give a youthful and cheerful touch to your room. And like many other strong colors, the best way to achieve this touch to any space is to combine this color with white.

With the rise of new decorative choices we can use to embellish and enhance our space, it is undeniable that painting is still the safest and the cheapest redecoration tool. Painting your space expresses your space's vibe, ambiance and adds personality to it. Hence, it remains as the most effective yet the cheapest renovation you can do to your home, especially your living room.
Let us know which is your favorite idea by writing in the comment down below :)