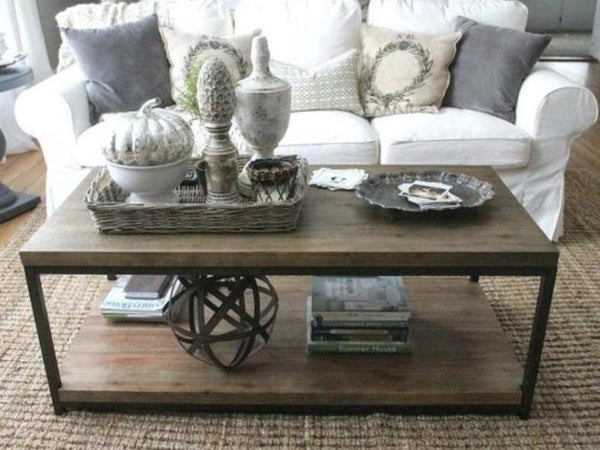 December 21 2018
Staging a Coffee Table for Winter
Brrrr! Ladies and gents it's getting cold!
Most of us look to winter and wonder how we can make the things in our house seem a little more welcoming, a bit cozier. Have you ever looked at some of the furnishings and decor in your home and wondered just how to do it?
There are many different ways for you to do little things, take your coffee table for instance. It can either be cluttered with bills and books and be totally depressing to look at or warm and welcoming with candles and interesting books.
WHY DECORATE UP THE COFFEE TABLE? 
It is the center-piece of most living rooms, a place where almost everyone sees. 
Have you ever been to someone's house and wondered how on earth they always manage to have their coffee table look so inviting?
At Showhome Furniture we literally have so many coffee tables to choose from. Round, oval, square or rectangles. Wood, fabric, glass or metal...if you dream it we'll prob have it. So come on down to our store and browse thru our showroom for fun coffee table ideas and coffee table decor.
TIP #1 INTERESTING, FUNNY, PRETTY BOOKS AND MAGAZINES
Start decorating your coffee table with a few well chosen large books to match the scale of your main tray. Choose a variety of topics. I love good cookbooks to flip thru. You'll find your guests will spark up some interesting conversations while flipping thru the books and stay entertained. 
I always stack a few upon one another. The books can be your focal point, or they can be paired with other things as well. I also add an adult coloring book and nice markers in a cute cup for when guests get a coloring urge.
Tip #2 TRAYS TRAYS TRAYS
I adore trays! There are so many styles. Currently I have a huge round tray on my coffee table and I love it. Trays play a very important role in staging a coffee table.
You can fill them with candles, trinkets and flowers with the large books beside the tray. Here's some examples I found online for you to analyze. Design plays a large part in staging your coffee table. So have fun and experiment. 
TIP #3 BEAUTIFUL CANDLES 
Seriously candles are a must! But, you need to light them up. I have so many candles that I use for staging I often forget to light them and enjoy their real purpose. They put a softness to the room and instantly add a spark of magic! Have fun when buying your candles. 
Be daring buy some different shapes and sizes styles, tailor them to your personality. Battery and fire-lite candles are great. 
TIP #4 FRESH OR FAUX FLOWERS
This is an absolute must in the winter! Trick your mind that spring is right outside. Flowers are the best reminder that we aren't always stuck in this wintery land, whether they be fake or real they can add to the delight of your coffee table. 
They can bring a little colour, or just accent the room as you would like. In the spring I usually do tulips. Summer brighter colored flowers. Fall cotton stems. Winter evergreen stems and white berries, or beautiful white roses.


Choosing a vase for your flowers is based on your taste. Showhome has a lot to choose from. I like having a few on hand. Rusty tin pitchers, glass rounded vases or metallic shiny ones.
There are so many different types and styles to suit your personal taste, and sometimes you just want to get them all. My advice, just get one for every season and enjoy the choice you made.

Thank you so much for reading this blog! Have fun decorating up your Showhome Furniture coffee table! I would love to hear what is a MUST HAVE on your coffee table:)

Don't forget to follow us on social media and comment below to win prizes! Have a great week! You can also visit us at North Hill Center and check out hundreds of beautiful pieces on display.
❤️SHF FAMILY