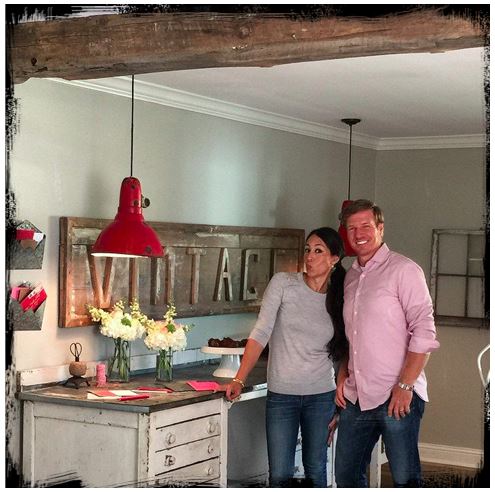 November 27 2016
In love with Chip And Joanna Gaines? Let Showhome Furniture Help You With Your FIXER UPPER!
So here are some of our ideas on how you can put that look in your space.  Read to the end of this blog and comment for a chance to win Chip and Joanna's new book - 'THE MAGNOLIA STORY'
  Chip/Joanna Gaines' shop, Magnolia Market, before it all began | joannagaines / instagram
Before I knew a thing about Chip and Joanna Gaines, I fell in love with the Fixer Upper style. Discovering that the look I loved was created by a down-to-earth and funny couple only made it more appealing. The clean, simple lines and rustic touches that join contemporary with nostalgia rings a bell with today's homeowners and, while I'd love to import Joanna to style your space, instead I can help you learn how to create the look yourself. 



photo by www.countryliving.com
Although each home they do is tailored to their individual clients,  Joanna's aesthetic is open, airy and simple with a great flow between rooms.  Walls disappear or are scaled back so that the space is filled with natural light and there's a lot of communication between designated task areas.  Paint colors are generally subtle, fading into the background to let the overall design shine.

photo by hgtv.com/shows/fixer-upper
What caught my eye with their very first renovation were the
pendants
over the island - just beautiful oversized bells of gleaming glass.  So simple but so elegant.  Joanna uses a lot of clear,
farmhouse-style lighting
but also looks for unusual shapes that recall lighting fixtures from years gone by - lantern pendants, schoolhouse ceiling- mounted orbs, wooden chandeliers etc.  Many of her choices have metal with an intriguing patina or chippy wood.  And the character of the fixture is frequently enhanced through the use of Edison vintage bulbs.
Photo Credit: HGTV Fixer Upper
Metal signs with meaningful quotes, chalkboards framed in distressed wood,  rusty or patented farm or industrial pieces, antique baskets, chunky woven
wall hangings
, huge clock faces and other vintage finds bring warmth and interest to the walls, which are generally painted a light neutral color.
Photo Credit: www.magnoliamarket.com
I love the way Joanna brings interest to a space with her use of textures.  Her color choices are often uncomplicated and the whole space might be clad in various hues of the same light neutrals.  It's never boring, though, because she introduces so many different textures - heavy woven wools, delicate muslin ruffles, burlap lampshades or cushions, rough barked stump sides tables, honed stone countertops.  The juxtaposition of silky and nubby, rough and varnished make the spaces inviting.
Image Source: Instagram user joannagaines
Using the same concept of contrast, Joanna keeps a keen eye out for vintage architectural finds - like chippy corbels, chicken feeding baskets, worn wooden tool carriers.  The naive feel of these elements marries beautifully with more sophisticated elements such as polished stone or linen bedding.  Her interiors shine with unusual floral elements cozied up to well-used items that tell a story.  By using items from your own past or ones that appeal to you, soon your modern house will tell your own story, one you can share with everyone who enters your special space.

Showhome furniture is constantly travelling the earth with our six little children (who aren't so little anymore) trying to bring Calgary unique pieces that tell a story and have a rich past. We
love seeing pics of showhome in your home! Send us your comment and let us know if you love this "FIXER UPPER" style as much as we do??

Share your pics on our Instagram and Facebook page and use #ShowHomeFurniture - instagram.com/showhomefurniture | facebook.com/ShowHomeFurniture
Remember to comment so you can win Joanna's new book.