Choosing a Calgary sectional sofa is a big decision and can be confusing because there are so many options out there. There are L-shaped sofas, reversible sofas, modular sofas, and even symmetrical sofas.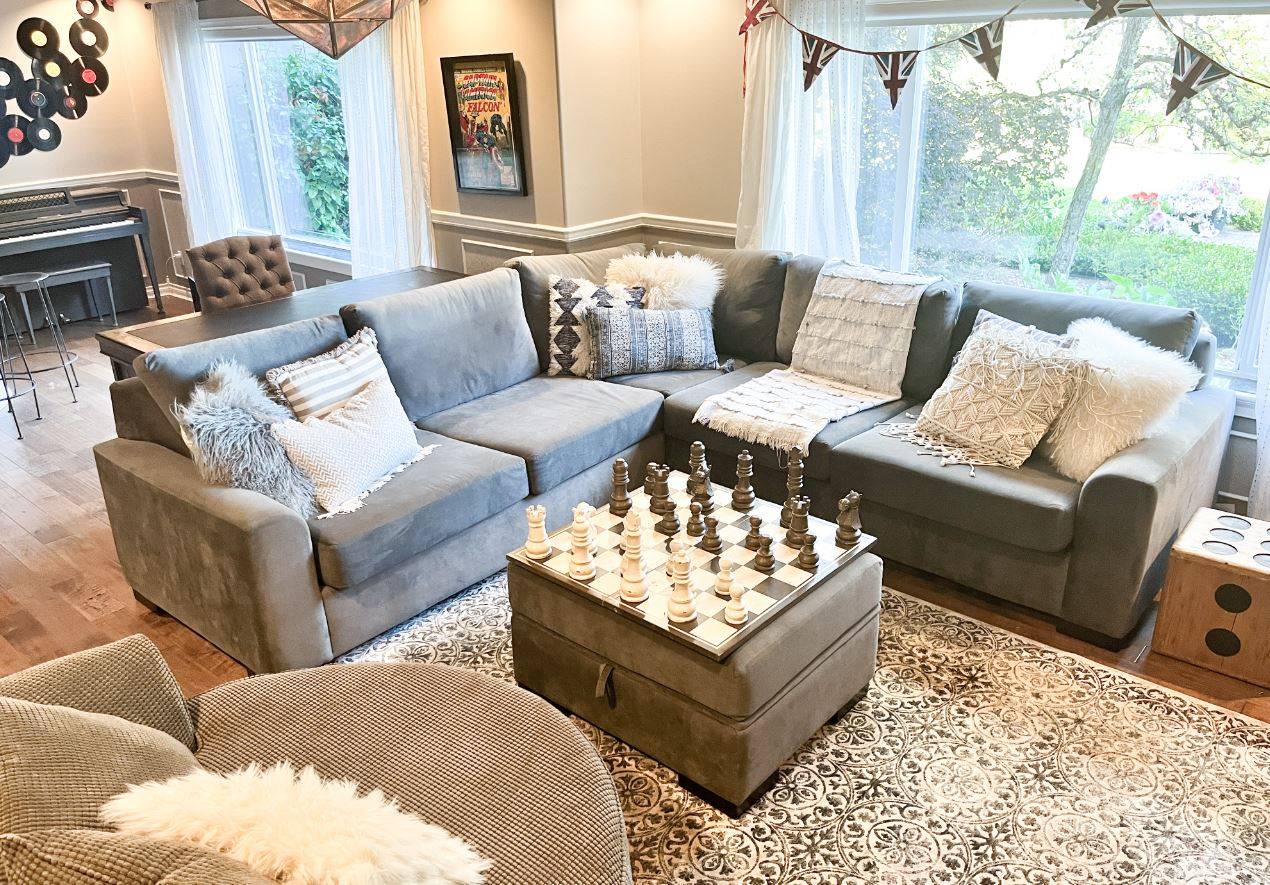 REVERSIBLE
Whether you want a reversible sectional sofa for your living room or your bedroom, there are plenty of styles to choose from. They offer versatility, comfort, and style. The most important part of choosing one is how it will fit your space.
You can buy one online or at the best furniture store in Calgary-Showhome Furniture. Make sure to order online for a reputable company that will be able to deliver your new sectional sofa. They should also be able to install it.
A reversible sectional is a great option for those who change homes frequently. They are easy to change and allow you to create a new look in minutes. Reversible sectionals also make it easy to change the layout of your living room.
You can also find sectional sofas in different colors and fabric choices. Depending on your room's theme, you may want to choose a reversible sectional that matches your decor. Typically, they come with two coordinating throw pillows.
The first thing you need to do when shopping for a sectional is to measure your space. Make sure to measure the entire room, not just the area where the sectional will be sitting. The size of your room will determine how big of a sectional you need.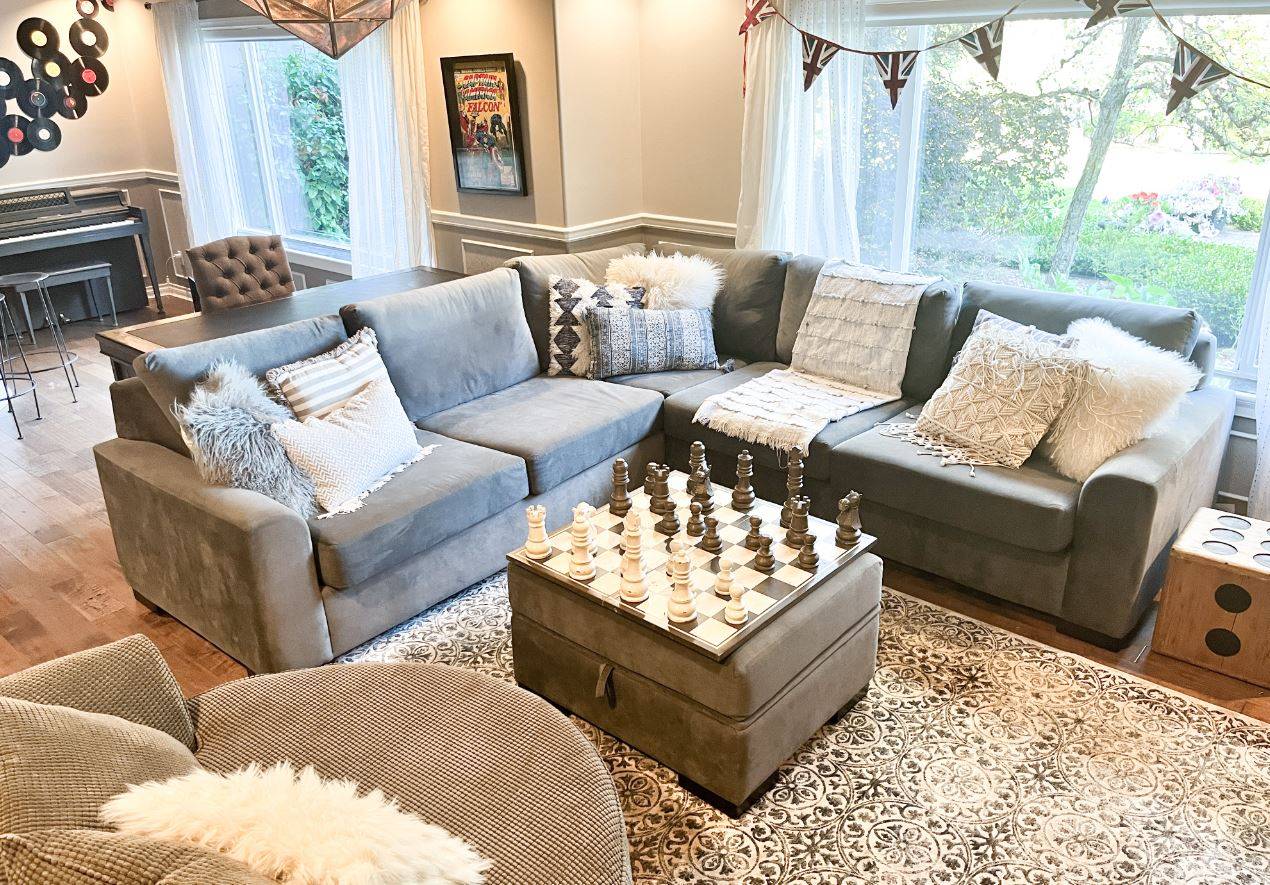 Another thing to consider when purchasing is to choose the best furniture store in Calgary that has a reversible sectional is the orientation of sectional. There are L-shaped and curved sectionals. You can opt for an L-shaped sectional to face the television or the fireplace. There are also corner sectionals that can be placed in the middle of the room. You can choose a curved sectional if your room has lots of space. It is a bit harder to place a curved sectional against a wall, though.
L- SHAPED
Whether you want a chic sofa to entertain guests or a comfortable spot to curl up with a book, there is an L-shaped sectional couch that fits the bill. You can choose from a wide variety of styles, sizes, and colors.
L-shaped sectionals are the most popular style of sofas. They offer plenty of seating in even the smallest of living rooms. They also provide ample room for guests to spread out. They are easy to clean and move around, making them a great choice for your home. They can also be stacked against a wall to make more room for other furniture.
One of the most unique features of a L-shaped sectional is the chaise, which provides a place to rest your feet. This allows you to take a nap, relax, or even eat. There are also several other features that make this style of sofa stand out.
When choosing a sectional, you may want to choose one that has hidden storage. This can help you maximize the space in your room, and it will also provide you with a place to keep your favorite books, games, or accessories. Some sectionals come with LED lights, which can add ambiance to your room. This is especially useful in a media room or home theater.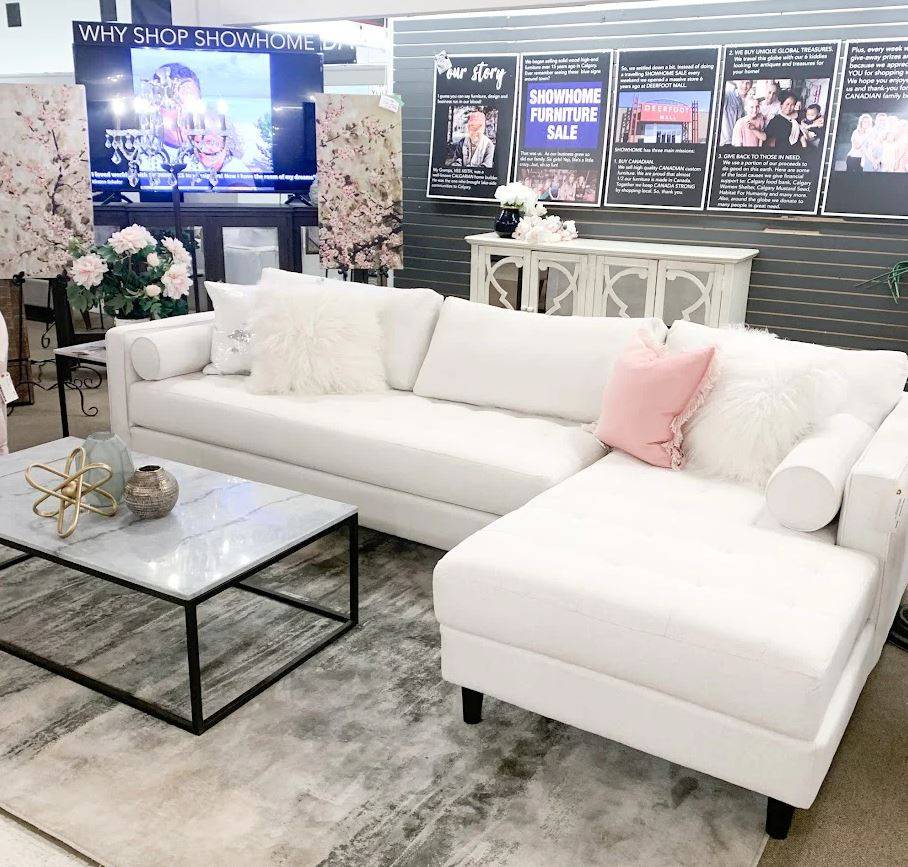 When choosing an L-shaped sectional, make sure you select one that is the right size for your room. It should be at least 6 feet long. This will allow you to maximize the room's square footage while still having plenty of space to move around.
Another feature of L-shaped sectional couches is the ability to change the design. You can make your sofa look different by swapping the cushions and fabric.
SYMMETRICAL
Whether you are looking for a place to relax or entertain, sectional sofas can fit your needs in Calgary furniture store-Showhome Funiture. Their sofas come in a variety of colors, materials, and configurations to fit your lifestyle. A sectional can also serve as a focal point in your room.
Sectionals have a compact, streamlined design, and feature high-end features at a price that is affordable. They offer plenty of roomy seats and offer a quiet, sinuous spring design. They also feature high-density foam cushioning and cross supports. The cushioning is also pet-friendly, and the fabric repels liquids.
Sectionals are available in a variety of sizes, from small to large. The average sectional is approximately 130 inches wide, though some are wider than this. Sectionals can be paired with chairs and loveseats to create a visual space that can be used for both entertainment and comfort.
Sectionals come in a variety of styles, including U-shaped and L-shaped. U-shaped sectionals are perfect for large families. These sofas are usually made up of two long sections on either side of a shorter couch. This design allows for plenty of room for leaning back and having a conversation. They are great for family gatherings, sleepovers, or sports game nights.
L-shaped sectionals are generally arranged like the letter "L." They have five or more cushions on either side of a central sofa. Typically, they have a corner section with an armrest. The back cushions are filled with polyester, while the front cushions are filled with foam.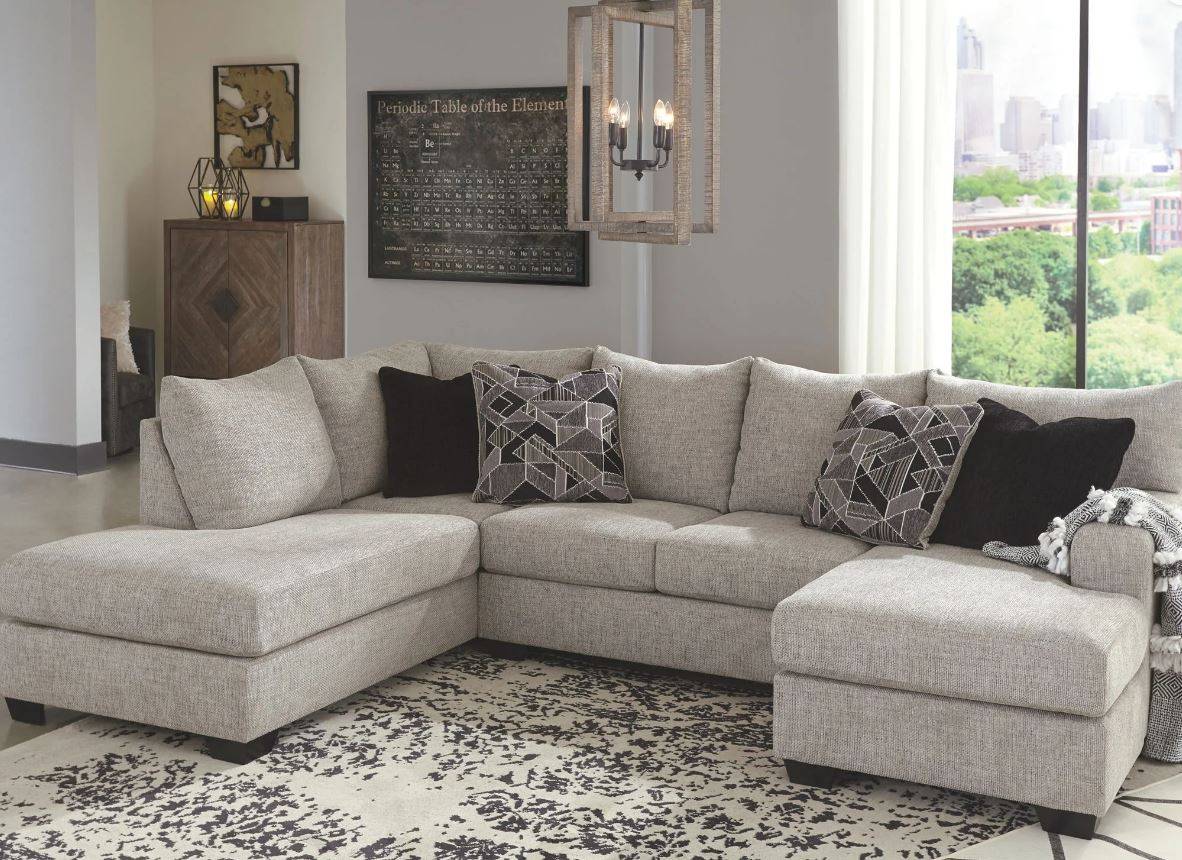 When choosing a sofa, you should consider the size of your room. If you are planning on using the sofa for entertaining, you may want a larger sectional. If you have a small living room, you may want a smaller sectional.
MODULAR
Whether you're looking for a new couch or a complete living room set, modular sectional sofas can add sophistication to your home. They can also be used to maximize space. They're available in a wide variety of styles and colors.
There are also a lot of different types of sectional sofas to choose from. Some are designed to convert into a sofa beds and are made with built-in mattresses. Others have adjustable headrests and USB ports. Some even have massaging components. You can find modular sectionals in a variety of fabrics and leathers. Some are even made from faux leather to add a touch of class.
The first thing you should do when looking for a modular sectional is to determine how much space you have to work with. This will help you choose the size of sofa that is most likely to fit your needs.
You should also consider the material. Some sofas are made from leather or microfiber, which are both ideal for high-traffic areas. You'll also want to consider the type of fabric that will be most durable. If you're looking for a more traditional feel, you may prefer a smooth-finish fabric. However, you'll want to keep in mind that textured fabrics will show less wear and tear.
Lastly, you'll want to check out the design. If you can't decide, you can take advantage of free design services. These services will help you pick the most impressive and appropriate piece for your home.
For instance, the Crate and Barrel Gather Sectional is a classic. It's also one of the most comfortable modular sectionals on the market. Whether you're looking for a contemporary look or something more rustic, you'll find a sectional sofa to match.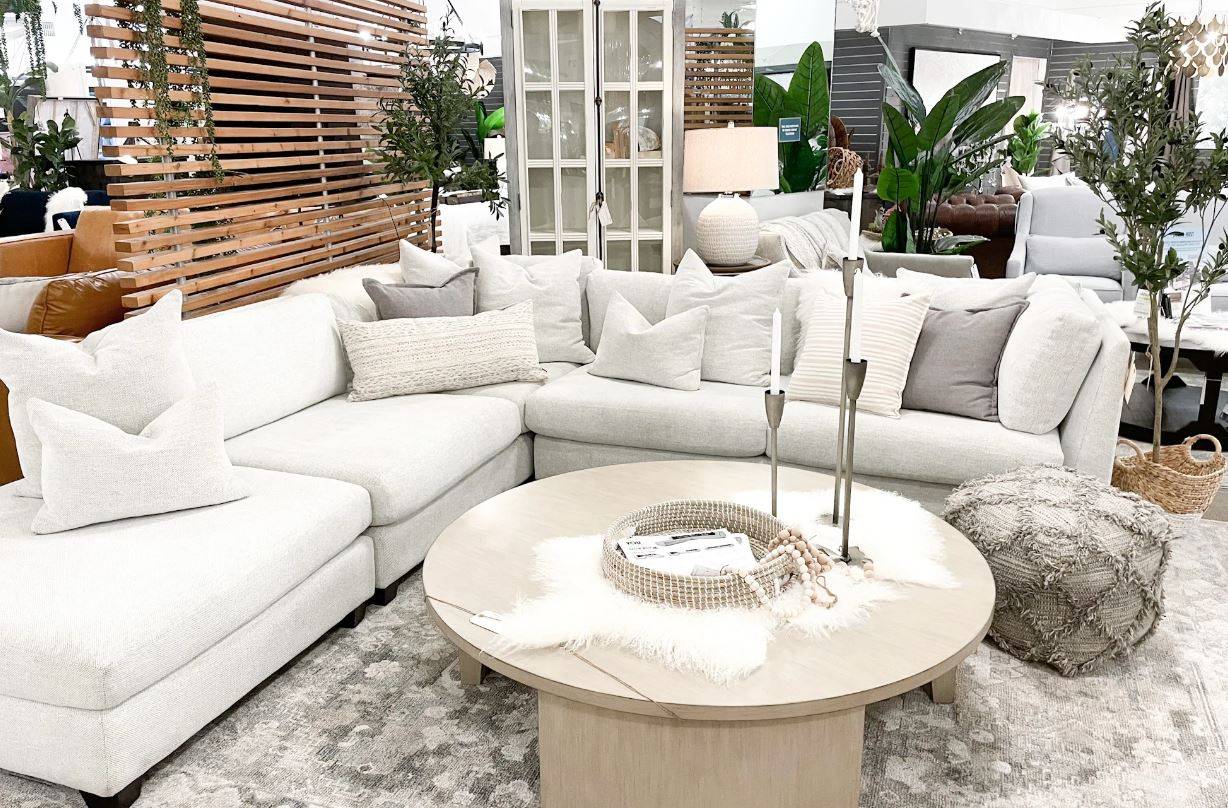 SLEEPER
Adding a sleeper sectional sofa to your living room is a great way to save space. It offers large seating and converts to a comfortable bed in just a few minutes. Sectional sleepers are versatile and come in a variety of styles. There are also options for adding ottomans for extra seating or storage.
If you are considering a sleeper sectional, you should be aware of its weight. They are heavier than conventional sofas. You should also check the size of your room. The proper size will ensure a good night's sleep.
Sectional sleepers come in a variety of styles, including U-shaped, L-shaped, and more. You should choose a style that complements your room's style. You can also find a variety of colors and fabrics.
If you want a sleeper sectional that is stylish, look for one with clean lines. You should also find one that comes with a mattress and a pull-out bed. You should also test the mattress for comfort.
If you want a sleeper that has clean lines and a modern appeal, the Gus Sleeper Sectional Sofa is a good choice. It has track arms and plush cushions. Its modern design will fit well in contemporary or mid-century modern rooms. It has a sturdy frame and is built for comfort.
The Argos Sleeper Sectional combines form and function with a sleeper pull-out bed. It has a modern charm and is affordable.
The Gus Sleeper Sectional Sofa is an ideal choice for your living room. It has clean lines and is an excellent fit for mid-century modern spaces. It has a sturdy frame and is made from a high-quality contract-grade polyester fabric. The upholstery is durable and is easy to clean.