When you're ready for a new Calgary sofa, you'll probably want to consider a custom-made sofa. These furniture companies have a large selection of leathers and fabrics to choose from. Some offer more than 800 fabrics and a variety of materials and styles. The right fabric can make a room pop. A classy leather can complete a dream living room, while a funky pattern can draw attention to a room's focal point.
Showhome FURNITURE
In addition to sofas, The best furniture in Calgary - Showhome Furniture offers other custom-made furnishings, including tables, chairs, and sofas. You can customize your own furniture to fit your style and preferences. The company also makes beds and offers a variety of styles for each room.
The Showhome furniture custom-made sofa is known for its comfort and size. Its hardwood frame is wrapped in two-pound foam that exceeds industry standards. Cushions are made from high-density polyurethane foam with no toxic chemicals. A center leg can be added for added structural support.
Calgary furniture store - Showhome Furniture's cushions has its high quality, it's the perfect addition to any person's home, office, or living room. These materials also help support the company's mid-century modern design. Alternatively, customers may opt for more traditional wood or metal legs to create a mid-century modern look.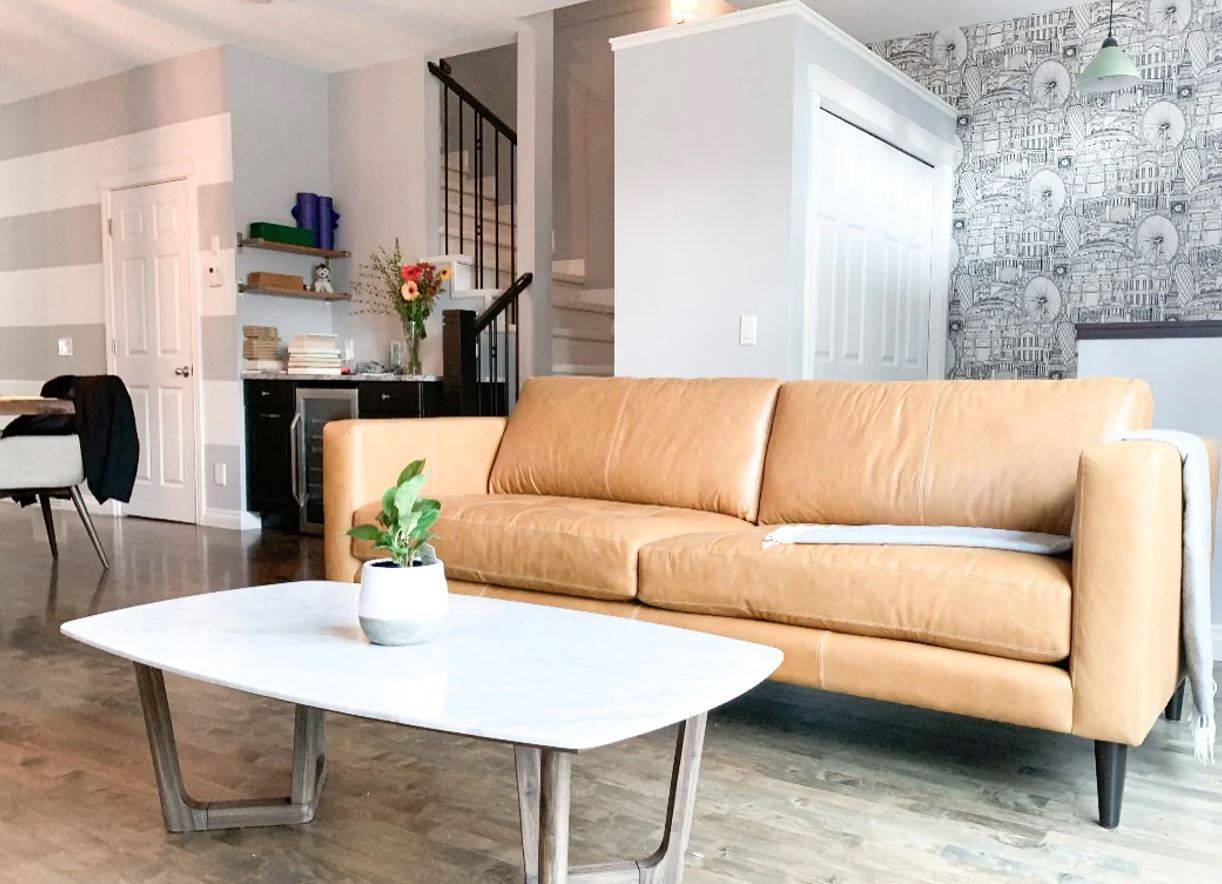 The best furniture store in Calgary -Showhome furniture represents the latest in modern furniture, including side tables and chests. We travel around the world to bring you exceptional pieces of furniture and accessories at accessible prices. Showhome furniture is dedicated to providing you with the best and the most durable and world-class latest fashions in the world of Calgary side tables, furniture, and accessories. With a curated selection of high-quality international designers, Showhome Furniture aims to provide you with the best products at the most competitive prices.
Showhome furniture is your best choice to purchaise your ideal furnitures! They specialize in canadian sectionals. You dream it, , they will build it. You can meet with one of their designers and will help you design the most amazing Canadian-made sofa ever! You can pick your fabric color, foam density, and sectional configuration.
Floyd
If you're looking for a sofa that fits the unique design of your space, consider a Floyd custom made sofa. This two-seater couch features deep plush seating, timeless rolled arms, and a box border. The couch comes in four boxes, and should take you less than 45 minutes to assemble. You can buy it for $139, and the company even offers free shipping and returns within 30 days.
The Floyd custom made sofa is made of sustainable, high quality materials. This means that it's not only comfortable, but also kind to the environment. Floyd's furniture is made with nontoxic, honest materials, and shipped flat for a lower carbon footprint. The company aims to end the tradition of cheap, throw-away furniture that ends up in landfills.
The Floyd custom made sofa is available in three different configurations and five colors. Made from stain-resistant fabric, the furniture is easy to assemble. It's lightweight and durable, and its padded cushions won't slide around. The sofa will be delivered in four to seven boxes. The company's goal is to create furniture that you'll love for years to come.
Studio 65
The "Bocca" custom made sofa by Studio 65 is a work of art in itself. This unique and sculptural sofa is inspired by the surreal portrait of Mae West, by Salvador Dali. This 1970s design was created as part of a project for a fitness center in Milan. The designers wanted to create a sofa that would evoke the iconic image. The result is a sofa that provides a natural place to sit and is sure to be a conversation piece.
The Studio 65 Kiss sofa measures 33" wide and 39" high. Another Studio 65 collaboration is the Capitello side chair, which is a permanent piece in The Met's collection. Studio 65 broke up in the late 1970s, but their work remains popular and sought after by postmodern and radical design collectors.
The bocca sofa is known for its lipstick-red color. It is also available in a new version as a loveseat. The rotomolded plastic makes it suitable for both indoor and outdoor use. The lip-shaped sofas were photographed by David La Chapelle and Richard Avedon.
Bassett Furniture
If you're in the market for a new sofa, consider a custom made sofa from Bassett Furniture. The company is known for its solid wood craftsmanship, as well as their attention to detail. Their custom built pieces incorporate the expertise of furniture experts who put years of experience to work. The custom sofas that they offer feature high-density foam and a layered construction to provide superior comfort and support. The company also uses locking unibody construction on their furniture frames to prevent creasing, twisting, and warping.
Getting a custom sofa from Bassett is a simple process that the company will guide you through step-by-step. You can select a style that fits your living room's decor and personality. You can choose from hundreds of options for the design of your sofa, including the depth, arm style, seat and back cushions, and fabric. You can also choose your preferred base and legs.
Bassett Furniture offers custom-made sofas, sectionals, and ottomans. The furniture is made in the USA, and can be delivered in thirty days. You can order a couch of any size and configuration, including a couch with a sofa. You can also order a sectional in any shape or configuration, and you'll be surprised by how many possible combinations there are.
Bespoke
If you're looking to add a unique look to your living room, a custom made sofa is the way to go. Many companies that specialize in creating custom furniture provide a vast range of materials, fabrics, and styles. You can find a bright patterned fabric that makes a room pop, or a soft, classy leather that rounds out a rustic dream living room.
For example, Classic Sofa offers in-home consultations and guidance on style, cushion fill, and fabric selection. In addition, they partner with fabric designers like Ralph Lauren, Brunschwig & Fils, and more. They specialize in custom furniture that is both comfortable and eye-catching. Anding and his team love a challenge, and they are happy to meet your needs. They also provide a selection of ready-made furniture and offer the option of creating custom furniture.
A custom made sofa is an investment that will last a lifetime. The materials used in the creation of a custom sofa are of the highest quality, and the furniture makers will put a lot of thought into finishing the product. Unlike mass-produced furniture, customized furniture is not made in a factory, but by one person or a small team.
BenchMade Modern
The BenchMade Modern sofa offers a huge variety of customization options. From color and texture to size and shape, you can make the BenchMade sofa fit perfectly in your living room. They also source their materials from local sources in the US to minimize the environmental impact of shipping. The company's fast turnaround time is impressive.
The BenchMade Modern sofa offers a wide variety of fabric choices, including velvet, leather, and performance fabric. It is available in a range of prices, starting at $1,114 for a standard size. The seven-ply wood frame is sturdy and durable. The company offers the choice of espresso, walnut, or honey legs.
The BenchMade Modern Like Butter Standard Sofa is a comfortable and versatile sofa. With its lower seat height and deep cushioning, it's a great choice for those who enjoy sinking into a comfortable sofa. The fabric is extremely durable and can be custom-made for an added touch of luxury. It's the best option for people who want to make an investment in their living space.
Studio 65's Bocca
Studio 65's Bocca custom made sofa is an unusual piece of furniture. Although it was first produced in the 1970s, this sofa has become a popular prop in films and television. It is celebrated around the world and is in the permanent collections of many museums. This particular sofa has a slightly whimsical style and is a great piece of furniture for a quirky home. Its red color is a nice touch and it displays a touch of the designer's personality. Its design references Surrealism and is suitable for indoor and outdoor use.
The original Bocca sofa was designed by Gufram in the 1970s and is made of molded polyurethane foam. It has a witty soul and has become one of the most sought-after home furniture products. It has been redesigned in 2008 with different colors and chrome ring. The name Boccadoro comes from Italian, which means gold mouth.
Studio 65's Bocca inspired by Salvador Dali
Studio 65's Bocca sofa is a classic example of postmodern furniture design. This sofa is based on a Salvador Dali painting, and is made from polyurethane foam covered in red fabric. Its unique shape was inspired by the surrealist artist's flamboyant style. The Bocca sofa is made to order, and is backed by a warranty.
This sofa has been called a few different names. It is sometimes called the Lips Sofa or the Marilyn Bocca Sofa. It was created by Studio 65, a radical Italian design studio, and was inspired by Dali's original design. In 1972, the Studio 65 version received international recognition, and was exhibited at the Museum of Modern Art in New York. Today, the Bocca sofa is available in two variations: a softer polyurethane foam version and a more traditional version upholstered in elastic fabric.
The Bocca sofa by Studio 65 is a tribute to the surrealist artist Salvador Dali. The designer was influenced by the Dada and Surrealist movements when creating the Bocca. In his works, Dali portrayed Mae West as objects in a surrealist room, which inspired his Bocca sofa. Oscar Tusquets and Dali subsequently turned this collage into an installation that can be seen at the Dali Theatre-Museum in Figueres, Spain.