Whether you're in the market for new Calgary dining chairs or you simply want to update the ones you already own, there are several things you should know. From seat width to patterns, these tips will help you make a smart purchase that will work in your home.
Upholstery
Choosing the right upholstery for dining chairs in Calgary can add a luxurious touch to a dining room. Upholstery materials are usually made of heavy, durable fabric. The fabric has to be resistant to damage, as well as washable.
Calgary furniture store- Showhome Furniture has natural fabrics, such as cotton, which are the most common choices for upholstery. However, you can also choose synthetic fabrics, such as polyester. These fabrics are durable and come in a variety of colors and patterns. However, they are more prone to stains and tend to attract pet hair. If you are choosing a synthetic fabric, choose one that is colorfast, meaning it will resist fading and water. You can also find microfiber fabric, which has a velvet-like texture.
You can also opt for leather for upholstery. This is a durable fabric that looks good over time. Leather ages very well. However, it is also very sensitive to scratches. If you are using leather for upholstery, you should know that it will not be pet-friendly. It is also expensive. Another option is leatherette. It is a durable, washable fabric that can look good for many years.
The most popular natural fabrics for upholstery are linen and cotton. Linen is breathable, while cotton is durable and strong. You can also find synthetic fabrics, such as viscose.
Leather upholstery is expensive, but it is a good option if you are looking for a long-lasting fabric. Leather can also be wiped clean. However, if you live with pets, you should consider a different fabric.
Leather upholstery is also a great choice if you are looking for a rich, classic look. Leather is also very durable, which makes it an excellent choice for dining chairs.
Seat width
Using the correct seat width of dining chairs can help improve your dining experience. There are two main dimensions to consider: seat width and seat height.
Generally, a dining chair should be between 16 to 20 inches wide. This width will allow for elbow room in the back and clearance for the legs of the diner in front. It should also allow for at least 12 inches of clearance between the seat and the tabletop.
The most basic seat height for a dining chair is 18 inches off the floor. This height is perfect for most adults. If you're taller, you might want to look for a table without an apron.
The seat depth is also important. If the seat is too deep, the occupant will slouch forward. This is also a bad idea for young children.
Using a chair with arms is a great way to add a few inches to the overall width of a single chair. However, make sure the arms do not bump into the table.
The best chair for a 30-inch table has a seat that is at least 18 inches off the floor. This will still leave you with an ideal 30 cm between the seat and the tabletop.
There are many styles and materials of dining chairs available. Some are quite slim. Others can be quite shallow. The most important thing to remember is that you need to make sure the chair will fit under the table. You can measure the seat width of the chair before purchasing it to ensure it will fit.
When shopping for a dining chair, be sure to measure the chair at its widest point. This can be the seat or the back.
Durability
Choosing the best material for your dining chair is a crucial factor in its durability. If you're looking for dining chairs that will last for a long time, you should consider solid wood and engineered wood. The material you choose for your dining chair also plays a role in its aesthetic appeal, comfort, and price.
Engineered wood is a less expensive alternative to solid wood. It is made by combining wood fibers, sawdust, and other materials to form a more durable material.
If you're looking for dining chairs that are easy to maintain, you should consider polyester upholstery. Polyester is a budget-friendly synthetic material that is widely available. Its properties make it stain-resistant and resistant to fading.
Natural materials like cotton are also popular for upholstery. They have absorbent properties and keep people cool. They're also less likely to pill than synthetic materials.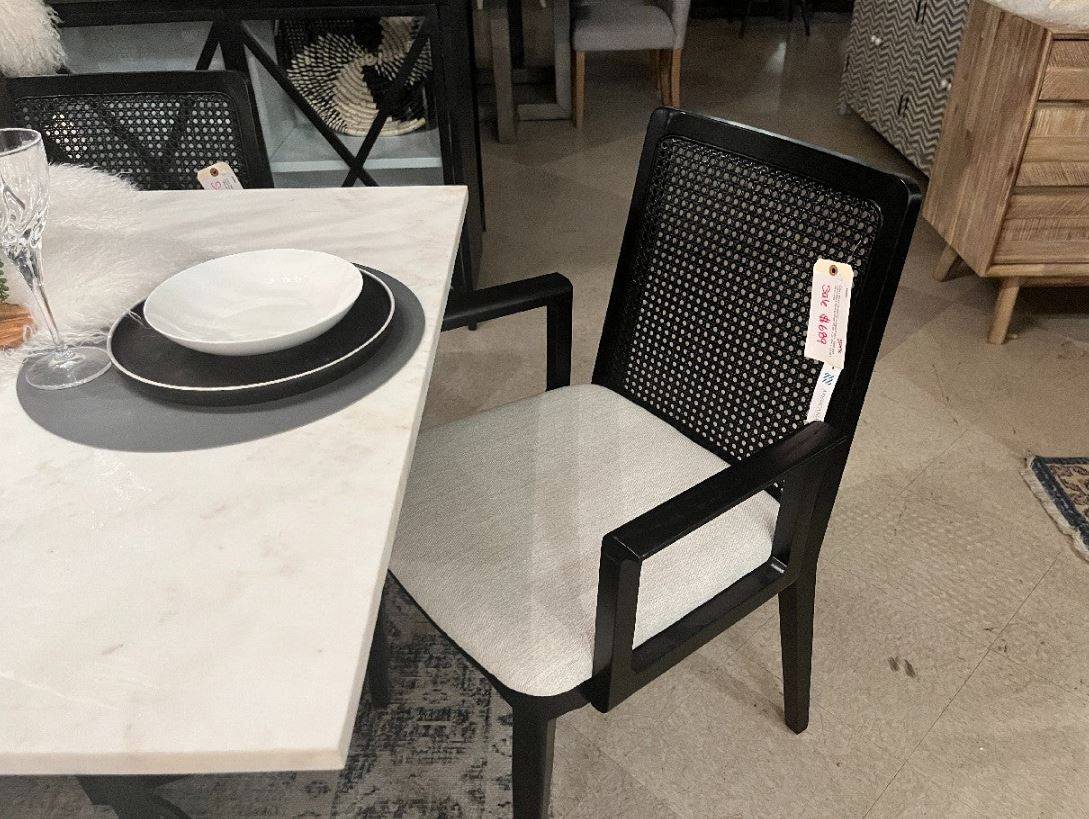 Another option is linen upholstery. Linen has longer fibers than cotton, making it more durable. It is also antimicrobial and breathable. However, linen is more expensive than cotton.
Despite its price, linen is one of the best materials for dining chair upholstery. Its long fibers circulate air and prevent allergens from building up. However, it can wrinkle when wet.
Natural fabrics like cotton are also great for outdoor seating. They're durable and they don't attract dust, dander, or odors. However, they can fade in direct sunlight.
Another great option for dining chairs is teak wood. Teak dining chairs are extremely durable and can withstand a variety of climate changes. They're also sustainable.
You can also look for dining chairs that feature a wicker/rattan construction. These chairs have a metal mechanism inside the base that is strong enough to support up to 300 pounds of weight.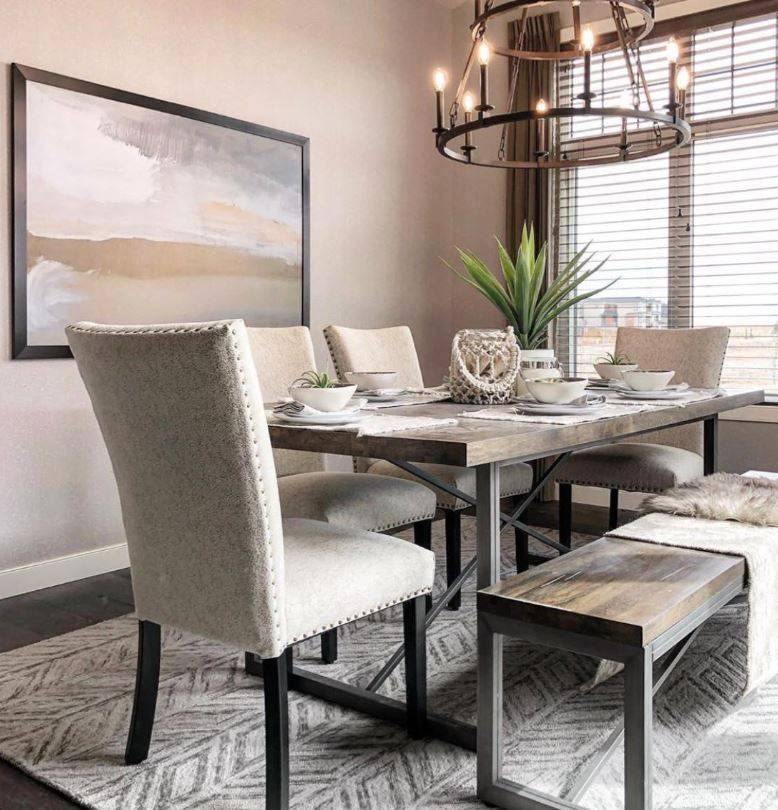 Patterns
Choosing patterns of dining chairs is a great way to add a little spice to your dining room. You can choose from a wide variety of colors, patterns, and materials to create a unique and memorable dining space. Whether you are looking for a traditional, minimalist, or modern look, you will find chairs that will fit your style.
You can choose from dining chairs in a variety of materials, from leather to metal to wood at the best furniture store in Calgary-Showhome Furniture, they have all comfortable, and attractive and can help to transform your dining room into a wonderful place to gather with family and friends. You can even find dining chairs with colorful patterns, like pink. Their chairs are a great way to add a feminine touch to your dining room.
If you are looking for a fun and unique chair for your dining room, consider adding some multi-color swirls in teal or burnt orange. You can also add a detail in the middle of the table, such as a vase or lamp. This detail will tie the chairs together and help to create a cohesive look.
You can also choose from a wide variety of patterns of dining chairs, such as abstract paint splatters. When buying a new chair for your dining room, it is a good idea to take into account your room's size and shape. If your dining room is small, you might want to consider a chair with a larger width. This will add more seating space and will help to make the room appear larger. You can also choose a chair with a cushion, which protects the chair from scratches and stains. These chairs can be easily cleaned and renewed as needed.