The Calgary chandelier is a beautifully handcrafted piece of art that will add style and beauty to your interior decor. With its Glass arms, polished chrome trim, and Crystal accents, it is sure to add a beautiful atmosphere to any room. It is the perfect addition to any dining room, living room, or study.
SHOWHOME FURNITURE
If you're looking for a unique and beautiful chandelier for your Calgary home in Calgary furniture store, you may want to consider purchasing a Showhome Furniture chandelier, the best furniture store in Calgary. A Canadian family business. They began with a risky model over 15 years ago. They saved up all of their money and purchased excellent furniture directly from the maker. They promoted it by holding little pop-up events every weekend. They would deliver it during the week in our station wagon. With toddlers in tow, we were quite the sight.
Showhome Furniture's glass chandeliers are very intricate and are made by blowing hundreds of pieces of glass into a specific shape. Once blown, the glass is placed in a mold called optical mold. Once the glass cools, the optical mold leaves impressions in the glass that make it unique. In some cases, the glass is encrusted with gold leaf to add a touch of sparkle and variation in color. In addition to being a beautiful piece of art, the Showhome Furniture chandelier is also a conversation piece.
Their works are made to be displayed in many different settings. These works are usually commissioned to create architectural works. Some of his chandeliers are outdoor installations and other special commissions. In addition to indoor installations, The best furniture store in Calgary chandeliers can be placed outdoors, making them a wonderful option for the home.
Showhome delivers unique hand-crafted furniture to your home. Because we have very little overhead and shop direct we are able to pass the savings on to you. Allowing you to create the home you deserve.
RUDYARD CHANDELIER - GOLD
The Rudyard is a magnificent, multi-arm style chandelier in Calgary that is expertly made from metal and has a luxurious gold finish. This chandelier's distinctive design includes movable metal pipes with pivoting capabilities, 18-glass globes coupled to a central vertical beam, and 18-glass globes. A 25-Watt rated, E12 bulb (Sold Separately) is housed inside each glass globe to assist provide a cozy, ambient glow.
ANTIGON CHANDELIER - BLACK
If you are looking for an aesthetic chandelier, the antigon is a one-of-a-kind, industrial-styled metal and glass chandelier in Calgary with a triangular metal chassis and glass paneling. Five-E12 bulbs with a 60-watt rating are housed inside the triangle chassis and produce a magnificent ambient illumination. Fits perfectly in areas with an industrial or modern design aesthetic because to its distinctive shape and premium finish.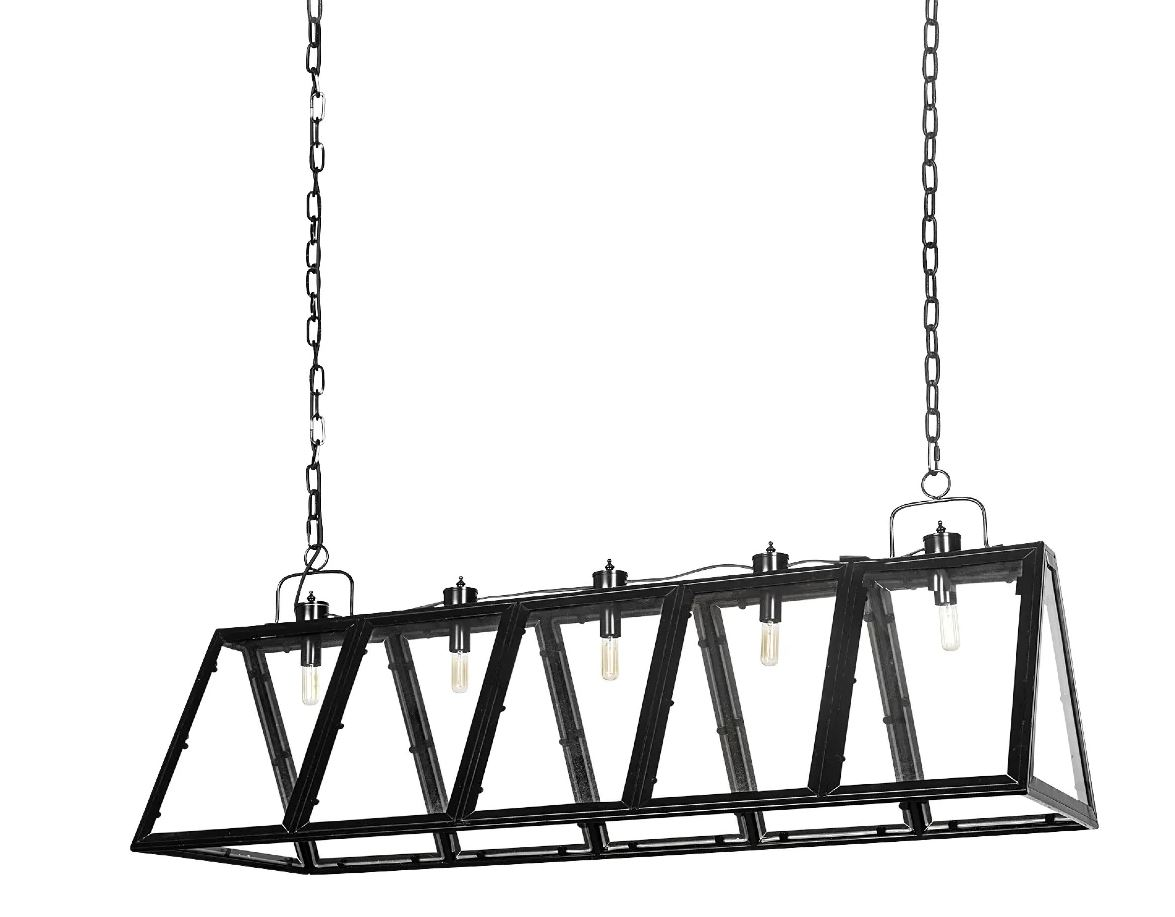 PENHILL CHANDELIER
The Penhill is a stunning Calgary chandelier that would look great in any dining room, foyer, or entryway. It has a hollow and drum-shaped natural brown polished wood chassis. Inside the wooden chassis is a candle-style bulb fixture with three 60-Watt standard E26 bulbs (Sold Separately) and a matte-black toned, mesh metal shade. The light fixture is suspended on a 42" flexible chain and looks fantastic in rooms furnished in industrial, farmhouse, or seaside themes. The Phillum is a ravishing, teardrop-shaped chandelier from Calgary featuring a rustic-silver toned chassis with white wooden bead accents.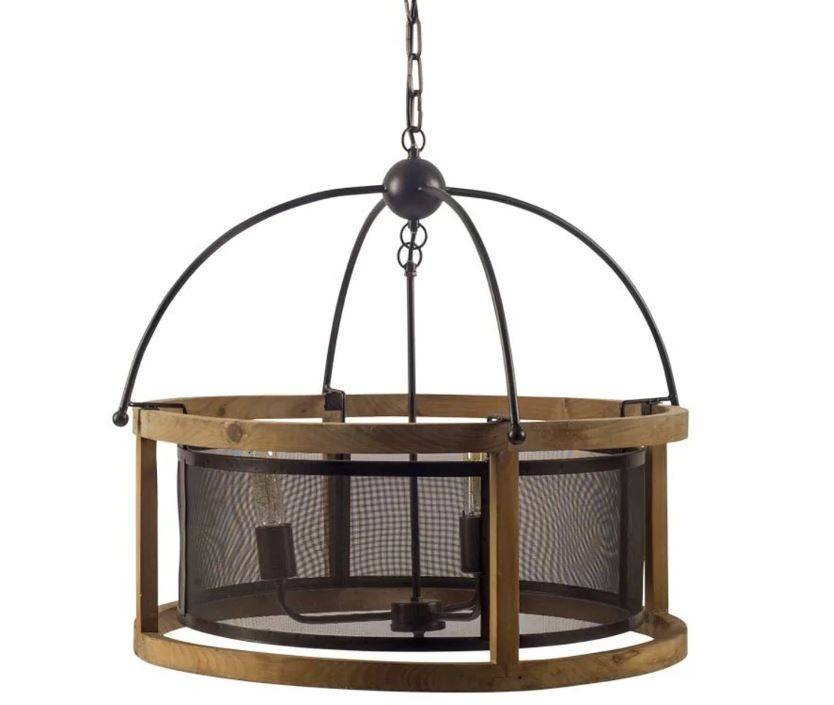 Emerging from the chassis are six, exposed candle-stand like bulb holders. Each fixture uses six, 60-Watt, E12/E27 chandelier bulbs that cast a radiant glow. With rustic metal accents that complement the white wooden beads, the Phillum looks fabulous in spaces based on the Farmhouse, Coastal or Mercana Modern design styles. The Phillum is finished with white-toned wooden bead details that look absolutely gorgeous and are guaranteed to add a touch of elegance to your space.The Phillum is suspended using an adjustable, metal wheat chain that measures 60" in length. This allows the fixture to be suspended at a height of your convenience. The Phillum is conveniently delivered pre-assembled for you. With an easy installation process, this posh chandelier will be ready to turn heads in your space.The Phillum uses six 60-Watt rated, E12 chandelier bulbs that cast a radiant glow and help set the perfect ambiance for your living room, dining room, or foyer.
WALLACE CHANDELIER
Introducing the Wallace chandelier in Calgary, a stunning piece that is sure to add a touch of elegance to any home. This chandelier features a circular chassis with hanging, frosted glass panels in a two-tier arrangement. The result is a truly eye-catching design that is sure to make a statement in any room. The Wallace measures 45.0" long by 27.0" wide by 8.8" high.
The Wallace is an opulent, two-tier chandelier that is expertly crafted from metal and frosted glass components which complement each other, resulting in a luxurious wall sconce that is not only visually enticing but also sturdy and substantial. Finished in a premium, antiqued-brass polish that is complemented by frosted glass panels, the Wallace looks gorgeous in any space and setting.The Wallace uses ten 40 Watt rated, E12 bulbs that help cast a warm, ambient glow. Bulbs available for purchase separately. Designed to be an instant head-turner in elegant spaces, the Wallace flaunts a radiant finish and an extravagant design, which when complemented by its unique, frosted glass details, make it the perfect addition to any elegantly styled space. The Wallace follows an easy assembly process and is ready to turn heads in your space as soon as it arrives at your doorstep.