If you're thinking of buying some leather goods, you should think about Canada Leathers. This independent Alberta company sells select leather goods, including beavertails. It's also a great place to buy leather goods made in Canada. Canada Leathers also provides information about wholesalers and online shops, as well as their Alberta-based location.
Showhome Furniture Leather
Showhome Furniture Store in Calgary is an independently owned store in Calgary, Alberta that specializes in Canadian made custom furniture. Their showroom is the largest in the city and showcases a wide variety of contemporary and traditional furniture. Among their many offerings are Canadian leather and fabric sofas, as well as a variety of other home furnishing items. Best of all, their prices are some of the most affordable in town.
In addition to selling comfortable couches and recliners, Showhome Furniture also sells custom home decor products. These products include tables in Calgary, bedside tables, dressers, office furniture, and more. You can customize the furniture in any room of your home, and the staff at Showhome will help you find exactly what you're looking for.
Before you begin shopping, you should have a budget in mind. You can browse through dozens of furniture stores in Calgary and narrow down your choices based on your price range and desired style. Be sure to check out feedback from previous customers to make sure that you're getting the right furniture for your needs.
Showhome Furniture Store in Calgary is another option for couches in Calgary. This locally owned brand sells quality home decor products including outdoor furniture and office furniture. Whether you're looking for an affordable set of sofas in Calgary, or a full-on living room set, this store will provide the perfect option for your home.
Showhome Furniture is known for providing excellent customer service and affordable, high-quality furniture for Calgary homes. Their showrooms feature a wide selection of options and offer custom-designed furniture services for residents of the City. Showhome Furniture also offers furniture rentals, which can be a great option if you're new to the area.
Showhome Furniture is another great place to get comfortable couches and recliners. This family-owned store also offers custom-made home decor products. They have over 70,000 square feet of showroom space and a knowledgeable staff who can provide guidance and design ideas for your home. They also offer delivery and assembly services.
Canada Leathers
If you're looking for a unique piece of leather, then you might want to purchase it in Calgary. There are several reasons to do this. First of all, you can buy the exact piece that you want. Buying locally allows you to see the leather's quality and see how it feels on your hands. In addition, you can pick out the exact colour and style that you want. It also gives you the opportunity to choose a unique piece that isn't available in stores.
Calgary is home to some great furniture stores. Showhome Furniture is one of the biggest showrooms in the city and specialises in custom Canadian products. They have an excellent inventory of modern, contemporary, and antique furniture. This store has a knowledgeable staff and offers free shipping. They also have a great selection of ottomans, so you can find one that matches your style.
Online shops
There are many benefits to buying Canadian leather online, but the most obvious is that you'll have a wider selection of choices. Online marketplaces are a great way to buy leather, but you'll need to make sure you understand the differences between different types of leather and their thickness and type before making your purchase.
A great online leather store will be well-protected, and they will also ensure the leather does not shift or scratch. If you're unsure what kind of leather you'd like, you can order samples to make sure it has the features you're looking for. A good place to start is a company such as Buckskin Leather Co.
While chain craft stores often carry small pieces of natural leather, there's no reason why you can't find more exotic leather online. Many online leather stores also have local stores, and they'll be listed in the search results if they have them. You can also contact them directly to find out if they have what you're looking for.
Wholesalers
The Leather Store is located on the side of the building. There you will find a large selection of hides in a variety of colors. The shop is also a good place to find unique leather products. You may even find pink or blue leather! The company provides both direct consumers and garment companies with a low cost rate.
The Leather Store also provides basic materials. You can touch and feel the leather to see its thickness, softness, and flexibility. It also allows you to choose the exact piece you'd like to buy. There's also a good opportunity to view the surface finish, which is important for some projects.
Alberta based company
If you're looking for the highest quality leather from Canada, you've come to the right place. The Buckskin Leather Company is a family-owned business that is based in Calgary, Alberta. It has been in business for more than 30 years and supplies leather hides and other leather goods to manufacturers, upholsterers, designers, saddle makers, and movie producers. Its founder, Michael Schluessel, continues this legacy today.
Showhome Furniture is another Calgary-based company that specializes in Canadian designer furniture. Their large inventory of furniture includes dining room sets, bedroom sets, modern office furnishings, and outdoor furniture. Their knowledgeable sales associates can assist you in selecting the right furniture for your home. They also have an excellent selection of ottomans that you can buy in Calgary for your home.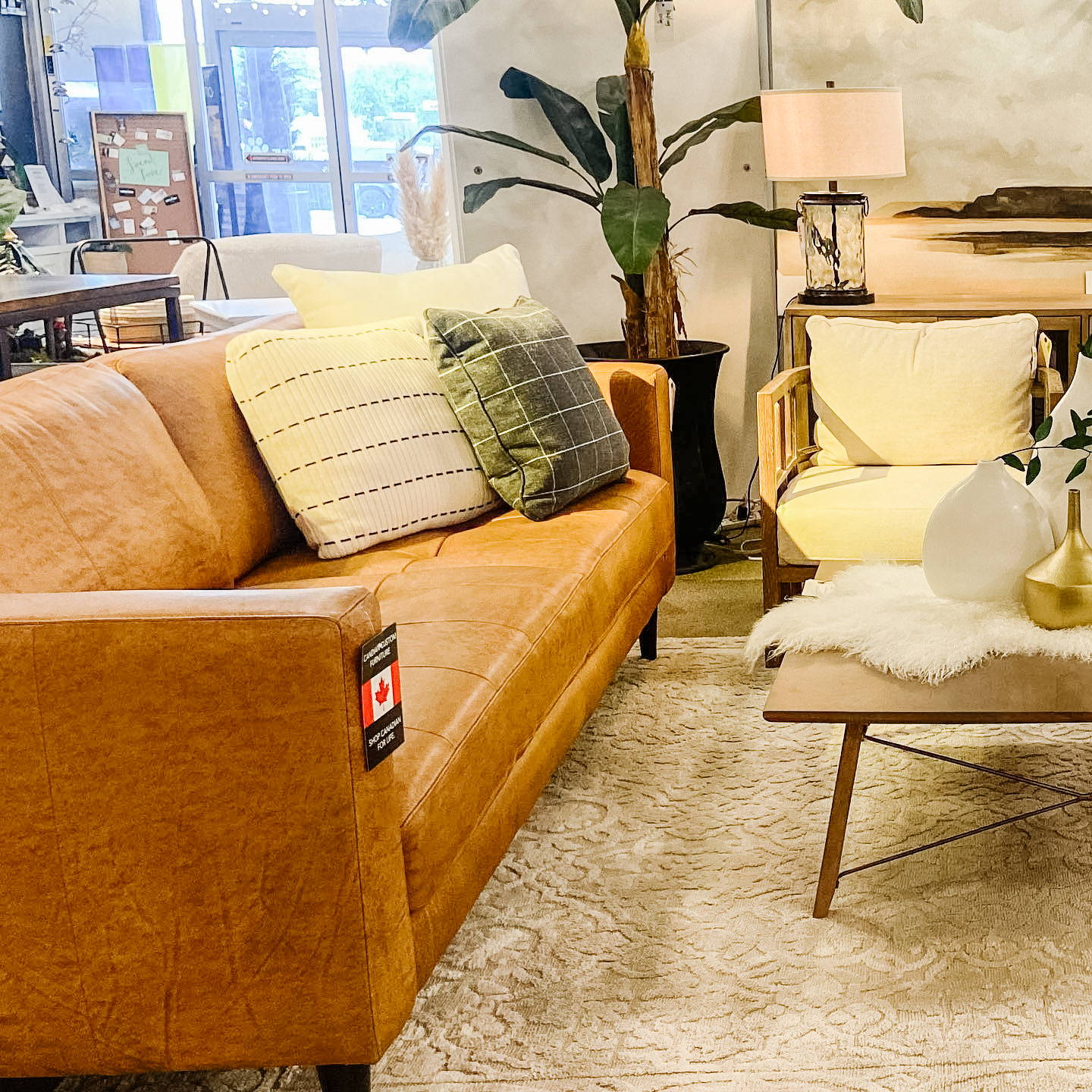 Lower cost
If you're thinking about buying leather for your home, you should consider visiting a leather shop in Calgary. This way, you'll be able to see firsthand how the leather feels, and you can even touch it to get a sense of how thick or soft it is. You can also choose the exact piece you want, and you can see how it's finished.
Showhome Furniture is a locally owned store in Calgary that specialises in custom furniture. It carries a wide range of contemporary and antique furnishings, as well as modern office and outdoor furniture. It also offers free interior design consultations and delivery and assembly services. Its staff are knowledgeable and friendly, and it is possible to pick out a sofa and ottoman that are just right for your space.
Conclusion:
You can also choose from a wide variety of sofas for your home. Showhome Furniture is a locally owned and operated furniture store in Calgary. They have one of the largest showrooms in the city and they specialise in CANADIAN custom made products, including custom leather and fabric sofas and sofa beds. Showhome furniture offers a variety of styles for every room in your home, including traditional and modern styles. They also have a huge inventory of custom-made furniture that is both beautiful and affordable. Their staff is knowledgeable and friendly, and the prices are the lowest in town. You can compare prices and find the right fit for your needs and budget. The best furniture stores in Calgary will offer countless options for you to choose from. They offer free design consultations and can help you with all aspects of the process. They have 15 years of experience and can offer you a wide range of options. Show Now at Showhome Furniture!